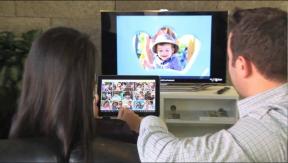 Los Angeles — The Consumer Electronics Association (CEA) announced that Maria Menounos will serve as the Entertainment Matters ambassador for the 2014 International CES.
Entertainment Matters is a content-focused CES program developed for Hollywood's film, television and digital communities, which includes the Screen Actors Guild — American Federation of Television and Radio Artists (SAG-AFTRA) as the associate sponsor. CES is scheduled for Jan. 7-10, 2014, in Las Vegas.
The Entertainment Matters ambassador illuminates CES's focus on bridging the entertainment and technology industries.
"As an innovative entrepreneur, filmmaker, author, journalist and television host, Maria Menounos is the perfect ambassador for the 2014 CES Entertainment Matters program," said Karen Chupka, events and conferences senior VP, CEA. "Menounos is a tech innovator in the entertainment industry, and her work embodies what the Entertainment Matters program is all about. Her successes through television, film and the internet are a true testament to the importance of merging content and technology to create the next-generation of entertainment."
Menounos is the host of "Extra" at Universal Studios Hollywood where she covers leading entertainment events, celebrity interviews, red carpets and movie premieres. She also hosts "Conversations with Maria Menounos," a digital talk series featuring one-on-one in depth interviews with Hollywood A-listers, which debuted No. 1 on iTunes. Menounos is founder and CEO of the AfterBuzz TV Network, an online broadcast network dedicated to producing post-game wrap-up shows for favorite TV series. With more than 200 hosts on roster, AfterBuzz TV is the largest pure online broadcast network, producing more than 50 hours of programming per week to a weekly audience in excess of 20 million from more than 75 countries, CEA said.
The CES Entertainment Matters program, which attracted more than 32,000 content and entertainment professionals at the 2013 CES, will feature exhibits, keynotes, panels and events critical to the entertainment community, including the 2014 IAWTV Awards Gala and Variety's Entertainment Summit at CES.
For more information, visit CESweb.org.