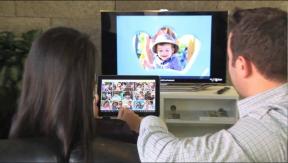 Newark, Calif. — Logitech introduced its next Windows 8-friendly computer accessory, the K810 keyboard.
Unlike the company's other recently announced Win8 peripherals that use Logitech's Unifying technology for pairing, the K810 uses Bluetooth. Mike Culver, brand development VP of Logitech, said Bluetooth was used in this case to enable the K810 to switch between three different devices at the same time, which isn't possible with the USB-based Unifying tech. Logitech first used this switching technology with its K760 keyboard, which has dedicated Mac keys instead of Windows keys.
Features of the rechargeable K810 include auto-adjusting and proximity-detecting illumination, a Windows 8 Start key, an App Switching function key, and laser-etched keys.
Battery life is listed at 10 days with a full charge; charging is done via USB. There is also an on/off switch and a battery-status indicator.
The K810 will be available this month for $99.99.