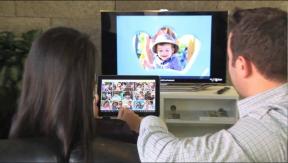 Newark, Calif. — Logitech today launched pre-ordering for two tablet accessories, the FabricSkin keyboard folio for iPad and the FabricSkin folio for iPad and iPad mini without a keyboard.
The FabricSkin keyboard folio features a Bluetooth keyboard with full-size keys that are seamlessly fused into the interior fabric. The keys offer tactile feedback like a traditional keyboard, but with a much smaller profile. The keyboard delivers three months of battery life on a charge.
The keyboard folio's fabrics are treated with a liquid-repellant coating and hidden magnets hold the iPad in two positions, snapping securely into typing mode and ensuring the folio stays shut when stowed.
Designed for the iPad or iPad mini, the folio without keyboard features the same designs and materials and adds a four-way flip stand.
The folios are offered in matte leather in Carbon Black and Mystic Blue, woven cotton in Electric Blue and Sunflower Yellow, in two-tone woven poly fabric in Urban Grey, and in a durable poly fabric in Mars Red Orange.
They can be pre-ordered on Logitech's website.