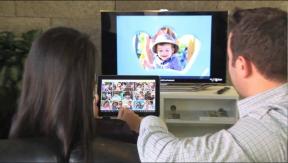 Sacramento, Calif. — High-end audio supplier Light Harmonic, which offers a pair of DACs at a suggested $20,000 and $31,000, is developing its first portable USB DAC.
The Geek USB DAC/headphone amplifier will ship in the first quarter at a suggested $299, but backers of the company's Kickstarter campaign will get the device for as little as $99, the company said.
The portable DAC, which will be the size of a thumb drive, plugs into the USB port of a laptop or desktop computer and drives two pairs of headphones. It will support playback of high-resolution files up to 384kHz in PCM, and it's promoted as the first portable DAC to process DSD and double-DSD files.
By replacing the computer's built-in soundcard, the Geek delivers music "with more detail, greater depth, stronger bass and dynamics," said Gavin Fish, sales and marketing VP. Movie dialog will also be easier to understand, and gamers will be able to hear where their opponents are with greater precision while gaming, he said.
Light Harmonic shipped its first product a year ago. The company's Kickstarter campaign runs from Aug. 13 through Sept. 11.
Latest posts by Joseph Palenchar
(see all)