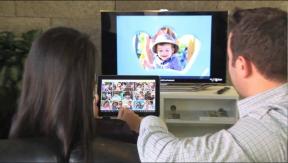 New York — LG Electronics took its latest cutting-edge television offerings to the Luxury Review at the Metropolitan Pavilion, here, Thursday to give well-heeled aficionados of life's finer things a taste of its Ultra High-Definition TVs and its flagship curved-screen OLED TV.
LG presented Ultra HD models from its 9700 series, 9650 series and 84-inch 9600 series ($16,999).
The highlight of the presentation was the company's 55-inch 55EA9800 ($9,999) curved-screen FullHD 1080p OLED TV, which was placed atop a slowly rotating pedestal to give attendees a glance at the unit's 360-degree curved ultra-thin panel design.
The Rand Luxury Review is a press showcase and shopping experience displaying the latest in luxury products and services. The event brought together brands from multiple industries, including automotive, jewelry, cosmetics, private aviation, resorts, spirits, electronics and home design.
"We've been studying fresh research from The Robb Report that shows a high level of interest in OLED and Ultra HD TVs among luxury consumers," said John Taylor, LG Electronics corporate communications VP. "In fact, nearly half in their study showed a strong interest in these categories. More telling is that one-third of luxury consumers intend to purchase an Ultra HD TV or OLED TV — or even both — in the coming year. This is an important data point for a premium brand like LG and top-tier retailers that are targeting this key audience."
Latest posts by Greg Tarr
(see all)