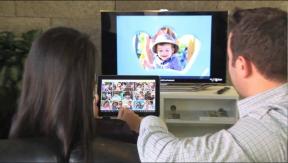 Las Vegas — LG Electronics plans to introduce its full 2013 line of smart appliances next week at International CES.
The platform, which includes refrigerators, laundry pairs, ovens and robotic vacuum cleaners, boasts an upgraded Smart Control feature that allows users to operate the appliances with voice commands via nearfield communications (NFC)-enabled smartphones, or to monitor them remotely over the Internet and on LG smart TVs.
Seong-jin Jo, president/CEO of the LG Electronics Home Appliance Co., described the 2013 line as the company's "most advanced convenience-enhancing smart home appliances." Its device-to-device connectivity allows users to "start a load of laundry while driving home from work, tell their robotic cleaner to vacuum the floor before company arrives or view the refrigerator's inventory of food items," he said, or control and monitor household appliances through their TV while still watching their favorite show.
Within refrigeration, the smart technology takes the form of a Smart Manager food-management system that provides a list of their refrigerator's contents that can be viewed on the door's LCD panel or via smartphone. Users can also input various food items to track their expiration dates, and Smart Manager can even recommend meals, provide recipes, and begin preheating LG's smart oven based on available ingredients within the refrigerator.
The refrigerators are also capable of online grocery shopping directly from the LCD panel. Items can be manually selected and ordered or, in a service currently available in South Korea, can be purchased automatically when current supplies are running low.
Korean models also offer a health manager feature that recommends personalized recipes, as well as daily and weekly meal plans, based on the user's age, gender, weight and height.
LG has also upgraded its appliances' self-diagnosis technology to better assess problems and alert the user via Wi-Fi, NFC tagging and audible diagnosis alerts.
The smart refrigerators are also smart- grid ready, allowing them to automatically adjust temperature and settings or delay the defrost mode based on fluctuating energy costs when powered by a compatible, smart-grid enabled utility.
In addition, the refrigerators' LCD displays allow users to watch TV or cooking videos, check the weather or calendar, and upload and enjoy photos, music and movies.
Like its smart refrigerators, LG's smart washers and dryers feature self-diagnosis technology that utilizes Wi-Fi, NFC tagging and audible diagnosis to alert users to possible malfunctions, while a Smart Adapt feature can download new wash-cycle programs such as Super Rinse or Baby Sanitize via smartphone or directly from the washer's LCD panel.
Smartphone users can also monitor the status of their laundry pairs, change functions and settings remotely with voice commands, and receive pop-up alerts when a laundry cycle is completed. Users can also start, adjust or pause the wash cycles via LG smart TVs.
Likewise, LG's smart ovens can also be monitored and operated using voice commands via a smartphone or smart TV, and can provide diagnostic alerts remotely. The ovens also allow users to search for recipes and program temperature and cook times over Wi-Fi or via NFC technology.
Similarly, LG's Hom-Bot smart robotic vacuum can be scheduled to begin cleaning remotely with a smartphone or Wi-Fi connection, and can be operated with a smartphone or from an LG smart TV using either onscreen controls or voice commands. The vacuum's camera eye also provides remote home surveillance via a smartphone and also allows users to speak to other through the Hom-Bot.
LG will be displaying the new smart products here at booth 8204 in the Central Hall of the Las Vegas Convention Center.
Latest posts by Alan Wolf
(see all)