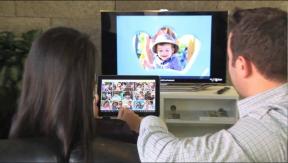 Seoul, South Korea — LG's parent company continued to let more cats out of the bag on its planned new product showcase for the upcoming 2013 International CES next week by revealing details on its core LCD TV and plasma lines.
The company previously tipped its hand on a spate of other TV offerings, including next-generation Google TVs, a short-throw laser-based DLP home-theater projector, and Ultra High-Definition and OLED advanced TV technologies.
Now comes word that LG will show some 45 LCD TV models across 16 model series, including those previously announced 2013 offerings.
Once again, the company will be offering both 720p and 1080p HD LCD and plasma models to cover a wide range of prices and value offerings.
But in its entry LCD series this year, LG will move 100 percent into direct LED back- or edge-lit models, dropping the former basic and less-efficient CCFL backlighting technology that had been the industry's standard for many years.
The company had three CCFL-backlit TV series last year, which have been replaced and expanded with direct-backlit LED models in 2013.
Ergonomically speaking, LG's TV designs this year have gone with still thinner bezels and shallower cabinet depths, including some premium models featuring a "virtual zero bezel" cosmetic.
A big push for LG this year will be in smart TV, where the company is looking to expand its content offerings.
LG has enhanced its Smart Home and Magic Remote applications. The new Smart Home onscreen interface features My Interest Cards, special folders for apps and other content that provide easy, quick access to what's trending on news sites as well as weather information. My Interest Cards can be customized according to the needs and preferences of the user.
The Magic Remote has been redesigned to fine-tune content and menu navigation, making interaction as simple and intuitive as possible, the company said. The device still incorporates the fundamental control capabilities of earlier Magic Remotes — point, wheel, gesture and voice recognition.
At CES, LG will demonstrate Voice Mate, an enhanced version of the company's voice-control technology capable of recognizing the natural flow of language. The Voice Mate feature offers a new voice search option that simultaneously filters search results from all corners of the LG smart-TV platform — video-on-demand (VOD) services, search engines, external devices and more.
The enhanced SmartShare feature offers users the ability to mirror or transfer content from smart devices to LG smart TVs via several connectivity options, including WiDi and Miracast. The 2013 lineup will enhance inter-device sharing further by implementing Tag On, which immediately connects two devices for media sharing.
To use Tag On, the user holds a smartphone or other nearfield communications (NFC)-enabled device against the NFC sticker on a Cinema 3D smart TV.
The 2013 lineup also supports LG Cloud, which allows the user to remotely stream high-quality content from practically any location.
New LG smart TVs also will offer an advanced recommendation function called On Now that suggests trending VOD and broadcast content. Thumbnail images pop up for content selection.
LG has also established partnerships with a number of multichannel video service partners around the world, including Verizon FiOS to simplify connectivity and integration of those programming services into the menu system of select 2013 TV models.
Meanwhile, LG Cinema 3D smart TVs will offer an upgraded central processing unit and graphic processing unit with speeds now 120 percent faster in several premium Cinema 3D smart-TV models.
In addition to LG's minimalist Cinema Screen Design styling reducing bezel trim, the company has introduced a Magic Stand to further enhance the floating screen effect.
The stand is said to complement the screen without creating any visual distraction.
LG's Cinema 3D smart TVs continue to employ Film Patterned Retarder passive glasses technology.
As previously announced, the LG smart-TV lineup will be joined by LG's next-generation Google TV LED LCD TV models as the company continues to offer its dual platform approach to smart-TV connectivity.
This year LG Google TVs will be offered in two lines, including the GA6400 series in 42, 47, 50, 55 and 60 inches, and the step-up GA7900 series with Cinema Screen cosmetics in the 47- and 55-inch screen sizes, LG said.
LG will also maintain three series of plasma TVs in 2013, featuring five models led off by entry 720p units in the 42- and 50-inch screen sizes, and a top-of-the-line 1080p 60-inch PH6700 series model with active-shutter-glasses-based 3D, LG smart-TV features powered by a dual-core processor, and a Motion Remote with voice-recognition capability.
Latest posts by Greg Tarr
(see all)