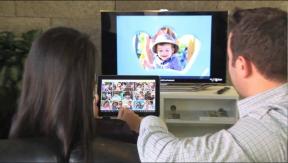 Richfield, Minn. — LG Electronics officially launched the first curved-screen large-format OLED FullHD 1080p TV at Best Buy's flagship Design Center showroom store here Monday, ushering into the North American market a technology that some consider to be the holy grail of next-generation displays.
OLED technology has long promised the benefits of ultra-thin panel depths, very low power consumption, a wide color gamut, and the industry's best black-level and contrast-ratio performances.
Model 55EA9800, which is carrying a $14,999 unilateral pricing policy (UPP) sales ticket, has a first-of-its-kind curved 55-inch screen, which is said to give viewers sitting in the screen's sweet spot a more immersive — IMAX Theater-like — experience.
The screen seems to wrap around the viewer, offering panels that are virtually equidistant from the edge and center of the screen to the viewer's eyes, when seated in the right position.
The curved screen relegates the set to tabletop placements, although LG has developed a modern ergonomic matching stand to play up the unusual styling concept the set provides.
At 0.17 inches (4.3mm) thin at the edge of the screen and weighing less than 38 pounds, the new OLED TV is based on LG's proprietary WRGB technology. The four-color pixel system features a white sub-pixel that works in conjunction with conventional red, green and blue pixels to create the expanded color output.
LG's Color Refiner system further improves tonal enhancement, resulting in images that are more vibrant and natural than anything seen before, the company said.
LG said the WRGB technology solves the reported problems with premature aging of blue phosphor material, and said the screen technology should last at least 30,000 hours.
In addition, the set is the first to receive THX's OLED certification for optimal picture quality.
The OLED TV also includes LG's smart-TV system and passive glasses Cinema 3D system.
It also employs a specially designed advanced built-in speaker system. Later in the year, the company will add a matching speaker bar system that improves the sound and complements the look of the set, LG said.
Best Buy has been given a launch exclusive for the next several weeks and will carry the OLED set in 10 Best Buy Magnolia departments — encompassing the Los Angeles, New York, Miami, Houston, Dallas, San Francisco, Chicago, Seattle and San Antonio markets — in addition to the outlet here.
Over the summer the new TV is expected to roll out to select Magnolias inside Best Buy locations nationwide, LG said.
In addition to imposing a UPP on the set, LG is restricting sales from the Internet until further notice because the company believes the product needs to be presented with a full demonstration from properly trained floor sales people.
Mike Mohan, Best Buy Home president, said the chain is in the process of training its Blue Shirt sales teams on the benefits of both OLED and newly introduced 4K Ultra High-Definition technology, to help give consumers a clearer understanding of the benefits and applications of both new systems.
Less than two weeks ago, LG launched its first 55-inch and 65-inch Ultra HD LED LCD TVs to join the 84-inch monster it introduced late last year.
Although the new OLED set offers more conventional FullHD 1080p resolution, its superior black level, contrast and color performance will make it hard for some to justify the need for Ultra HD.
James Fishler, LG marketing and go-to-market senior VP, said OLED will be positioned at early adopters looking for break through new technologies and advanced picture quality, while Ultra HD will be valuable to those customers looking for the best out of their bigger-screen TVs and for those whose home theaters will require them to sit closer to the screen.
Best Buy's Mohan added that Best Buy is well positioned to help customers understand the benefits and features of both OLED and new Ultra HD TVs.
"We get some ability with our subsidiary businesses, like our 28 Magnolia Design Centers, to segment the technology in place, show it [in lifestyle vignettes] and give high-caliber experiences," Mohan said.
Fishler said no product demonstrates the big-screen capability of Ultra HD the way LG's 84-inch UHD does, "and the curved OLED TV is a unique product that is only available in 55-inch and a dramatically different price point — $17,999 for the 84-inch UHD and $14,999 for the 55-inch OLED FullHD TV. These two technologies bring a different customer, different technologies and different life applications."
Mohan said Best Buy's ability to get a launch exclusive with the OLED TV and other products like Panasonic's ZT60 plasma TV series earlier, conforms to an "ongoing strategy that we've had for years. As we've been working with our vendor partners the landscape of retail has been changing dramatically. I think we've got a good mutual alignment that our physical real estate, and notably, where we put some of our premium experiences, offers a high quality representation of a new technology, which our consumers are expecting and our vendor partners appreciate — we can get a national message out with some degree of scale and the ability to serve the customer."
Mohan said Best Buy's TV business has been up slightly this year, but the introductions of new 4K Ultra HDTVs and the new OLED set, should help push revenue further.
"The one challenge has been the television industry for the past few years," Mohan said. "We're in a technology market where technology comes into play. With 4K Ultra High Definition and now with this OLED launch there is compelling new technology that consumers can see, and that offers us the ability to stabilize or even increase average selling prices."
He added that picture quality, size and price remain the top three purchase considerations to consumers today.
Fishler said LG spends "an inordinate amount of time and resources to make sure we get credit for our advancements in picture quality, that's one of the reasons we chose Magnolia to launch our OLED TV set. That consultative sales process can help us get credit for picture quality in products like this."
He cited DisplaySearch market research projecting global OLED TV unit volume to hit more than 7 million by 2016, and more than 1 million in the United States.
LG said it is the first company to commercialize both the flat-screen OLED TV, which has been sold to consumers in Korea since February, and the innovative new curved OLED TV, available in Korea since April.
Latest posts by Greg Tarr
(see all)