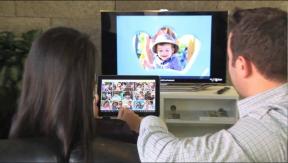 New York – LG Electronics gave its standout laser-based ultra-short-throw FullHD video projector a Big Apple sendoff and revealed its $9,000 suggested retail price tag.
The LG Laser TV, which ships in the U.S. in April, needs only 22 inches of separation from the screen to project up to a 100-inch image.
The projector will ship with a special 100-inch screen that helps reduce ambient light washout and includes LG's smart-TV platform for access to a wide library of content choices.
In is powered by a single FullHD DLP chip.
First previewed at the 2013 International CES, the LG Laser TV produces 150 nits of brightness, and renders vivid and crisp images.
Its unusual laser lighting source has a lifespan up to 25,000 hours without needing a replacement (about five times that of mercury-based lamps).
The projector can be ceiling mounted, or even positioned near the floor.
It has built-in Wi-Fi and a Magic Remote with three modes of control – gesture, pointing and wheel.
Tim Alessi, LG Electronics new product development director, said the LG Laser TV will be distributed to select A/V specialty and regional CE chain dealers that are currently handling the company's 85-inch Ultra HD LED LCD TV.
LG is tying the tipoff of the laser projector in with its NCAA Basketball Championship sponsorship.
Although it debuted at International CES under the name HECTO (a model number reference), LG elected to drop the name for U.S. marketing purposes, opting instead to call it simple the LG Laser TV.
Latest posts by Greg Tarr
(see all)