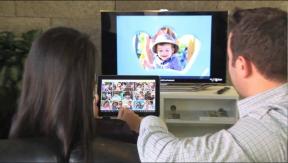 Seoul, South Korea – LG Electronics (LG) said Wednesday it has developed a new and improved Magic Remote for its 2013 Cinema 3D Smart TV lineup.
The sets will be among those shown at the International CES in Las Vegas, Jan. 8-11.
LG said the redesigned remote adopts enhanced language recognition ca-pabilities to simplify spoken commands, in a more natural, interactive and conversational way.
The new design will also continue to employ gesture, point, and wheel commands, leaving the choice of tools up to the preference of the user.
"LG is committed to providing innovative home entertainment solutions and the Magic Remote is a key pillar of the Cinema 3D Smart TV user experience," said Havis Kwon, LG Electronics Home Entertainment president and CEO. "The latest version boasts accurate language recognition and its gesture, wheel and point control options makes the Magic Remote stand out amongst its competition as a truly intuitive device."
The LG Magic Remote's voice control technology uses Natural Language Recognition software that enables more natural speech to executive commands.
The device will also service as a universal control solution. All devices ranging from Smart TVs, set-top boxes, sound bars and Blu-ray players can be managed with just one Magic Remote in the living room.
The point feature in the remote becomes an extension of the human body, enabling motion-based video game control. The wheel control scrolls up and down web pages or zooms in and out when using applications such as Google Maps.
Making specific gestures with the remote, lets users quickly access oft-used menus or perform frequently needed functions. For example, a viewer can switch to a favorite TV channel just by writing the number in the air.
LG said the Magic Remote will come in two versions — one ships with LG's premium Cinema 3D Smart TVs and the other with the company's standard Cinema 3D Smart TV models. The premium Magic Remote features LED back-lit buttons and is more compact. Commonly used buttons also have been repositioned for a more natural experience.
Latest posts by Greg Tarr
(see all)