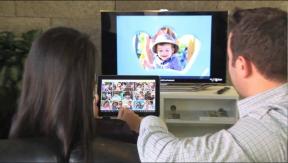 Seoul – LG Electronics continued its pre-International CES product introductions today with the unveiling of its first Chrome-based all-in-one (AIO) PC.
The LG Chromebase is a 21.5-inch AIO running on Google's Chrome operating system. The AIO follows the same design theory as the more common Chromebook laptops. It features 2GB of memory and 16GB of solid state storage with the idea the user would use a cloud-based storage site to hold the majority of their content.
The model is not designed for heavy productivity work, but for the user to surf the web, watch video, use social media and take advantage of Google's installed base of apps.
Other features include a fourth generation Intel Celeron processor, a 1,920 by 1,080 Full HD IPS display, HDMI in, three USB 2.0 ports, a single USB 3.0 port and a 1.3-megapixel webcam.
The Chromebase comes bundled with a keyboard, mouse and cable organizer.
Pricing and shipping information were not available.
Latest posts by Doug Olenick
(see all)