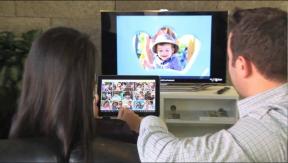 Englewood Cliffs, N.J. — LG Electronics USA, Learfield Sports and Best Buy have joined forces on a new promotion aimed at connecting with millions of collegiate hoops fans and campus communities leading up to the 2013 NCAA Division I Men's and Women's Basketball Championships.
The promotion is part of LG's broader national "Do March Right" campaign, and is expected to help the companies tap into the passion of college basketball fans' on a local level. The effort will leverage area stores and campuses where Learfield Sports holds the athletic multimedia rights.
LG, an NCAA corporate sponsor, will be promoting its brand at the campus level through radio, venue signage, hospitality, digital and social media, and also through strategic experiential events, promotions, giveaways and fan appreciation functions, the company said.
The goal is to "ensure a closer connect with the alumni, fans and campus communities," LG said in a statement announcing the plan.
The program includes consumer-driven events at Best Buys across the country, featuring coaches and former players interacting with fans for photographs and autographs. These were supported by local advertising, digital marketing and in-store signage.
"A key element of our broader nationwide NCAA-related marketing initiatives, our alliance with Learfield Sports, provided an exciting localized platform to help strengthen consumers' emotional ties with the LG brand across our major product categories — home entertainment, home appliances and mobile phones," said Michelle Acosta-Donovan, LG Electronics USA consumer promotions and sponsorship director.
Learfield Sports' partner schools participating in LG's fan initiative included the University of Illinois, Indiana University, University of Iowa, Iowa State University, University of Miami, University of Minnesota, University of Missouri, University of North Carolina, Oregon State University, Purdue University, San Diego State University, Stanford University, Texas A&M University and the University of Wisconsin.
LG Electronics also is driving exposure for its collegiate campaign through the Big Ten Conference, another Learfield Sports partner.
The LG brand is being highlighted in venue signage, game-day halftime promotions and digital media programs associated with the 2013 Big Ten Conference Men's and Women's Basketball Tournaments.
Learfield's local Big Ten Sports Properties has been driving the corporate partner platform for the conference since 2008.
"We're thrilled to partner with LG and this national platform," said Roy Seinfeld, Learfield Sports' national sales executive VP. "LG aggressively wanted to tap into the undeniable passion of collegiate basketball fans, and we've provided them an automatic 'in' to revered properties they can't get anywhere else. We're excited about the visibility and exposure they've already received through this partnership."
Latest posts by Greg Tarr
(see all)