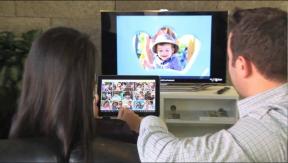 Long Beach, Calif. – Greater differentiation between the Kenwood and JVC car electronics lines, a refocusing of the JVC marketing department on supporting sell-in and sell-though, and other select changes are on the horizon now that Kenwood's Keith Lehmann has taken on the additional role of senior VP at JVC Mobile Entertainment.
At JVC, Lehmann is taking charge of JVC Mobile sales, marketing and business strategy. At Kenwood, whose car electronics sales exceed JVC's, Lehmann's title changes to executive VP of consumer electronics from senior VP.
In an interview, Lehmann said that in overseeing both brands in a challenged aftermarket, he will preserve separate training, sales and marketing staffs between the two brands as well as separate distributors, reps, and order desks to "preserve personal relations" in a "relationship-based industry." The strategy will help prevent each brand's identity from being diluted, he said.
In fact, far from diluting the two brands' identities, Lehmann said he wants to "help both brands focus on their identities and uniqueness." The two brands have "very similar products at similar price points, and we are managing that conflict," Lehmann said. "We now plan to manage that conflict before we come to market." That means the two brands will focus on different halo products and technologies that will "define the brands," and the brands will bring those technologies throughout their lines "so the uniqueness permeates every product and every category," he said. Similarities will remain, however, "where it makes sense."
Greater differentiation, which will benefit both brands, will start to appear at International CES because "the wheels have been turning for awhile," Lehmann said.
Although the brands will strengthen their product differentiation, Lehmann nonetheless sees opportunities to share engineering resources in developing core technologies such as power supplies, displays and microprocessors "to gain economies of scale." As a result, the company will integrate parallel engineering staffs involved in these functions, he said.
In another change, JVC will alter its marketing strategy "to make marketing tie more into sales support," Lehmann said. "We want to help dealers sell more products through in-store marketing, social media and other tools," he explained. "We can help them success more with a consistent plan that's shared, executed and measured." The brand will develop a "more methodical calculated way to run a yearly sales program so we get buy-ins from the field," he continued. Such programs have been successful for Kenwood and any successful company, he noted.
JVC will develop "a more comprehensive plan to go to market" in a "methodical and purposeful way," Lehman continued.
Another advantage of having one person oversee both brands, Lehmann said, is that "if one brand is better at one competency, the other can learn."
Although Kenwood and JVC offer similar products and similar price points, both brands already have distinct images that will be "preserved and strengthened," Lehmann said. JVC is viewed by consumers as a rock-and-roll, edgy urban brand," while Kenwood is seen as an "aspirational brand" based on technology and performance, he said.
Lehmann's new role follows the 2008 merger of JVC and Kenwood into JVC Kenwood Holdings and the 2011 consolidation of Kenwood and JVC Mobile offices into the same Long Beach building.
Latest posts by Joseph Palenchar
(see all)