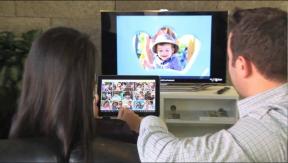 Orange, Conn. — Krell plans this week to ship its latest integrated amplifier, the $5,000 2×275-watt S-550i, which will join the 2×150-watt $2,500 S-300i integrated amp.
The new model, available in silver or black, delivers 2×275 watts RMS, both channels driven, into 8-ohm loads and, like the S-300i, doubles output into 4 ohms with both channels driven. Like the S-300i, the new model features 30-pin iPod/iPhone connector.
Other features of the new model include balanced and single-ended inputs and Theater Throughput mode, which simplifies integration into home-theater systems that feature surround-sound processor and multichannel amplifier. For custom installers, the unit features 12-volt triggers, RS-232 connectivity and rack-mount ears.
Like the S-300i, the S-550i uses proprietary Current Audio Signal Transfer (CAST) technology to send audio signals in the current domain between the preamp and amplifier sections to reduce noise and increase bandwidth, which is particularly useful with new high-resolution music sources, the company said.
The preamplifier section uses circuit designs borrowed from Krell's flagship Phantom preamp. Direct coupled circuitry eliminates capacitors in the signal path to deliver more impact, the company said.
The component comes with brushed-aluminum remote control.
The S-550i was originally targeted to ship last August.
Another new product coming soon is the Krell Connect, a component-size music-streaming device that streams music from the Internet and from networked PCs. It was shown at International CES with a March ship date and tentative $2,500 price point.
Latest posts by Joseph Palenchar
(see all)