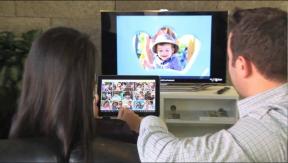 Redmond, Wash. — Kinivo has introduced the M2 Bluetooth-enabled 2.1 speaker system for the home or office.
The M2 consists of two compact speakers that communicate with the system's active subwoofer, producing superior, deep bass, which can be discreetly hidden and controlled remotely, the company said.
Designed for simple setup and to seamlessly blend with any home or office decor, the M2 speaker features a smooth black finish with a hint of copper accent on the subwoofer's volume controls. Kinivo's new home entertainment system or office audio staple is now available for $69.99 on Amazon.com.
The M2 can connect to a home entertainment system or workspace, requiring no complicated setup, wire routing or cable clutter, the firm said.
The speakers can also wirelessly stream from any Bluetooth-enabled mobile device, allowing audio from a smartphone or tablet to instantly fill the room, or plug into the speakers directly through its aux input, Kinivo added.