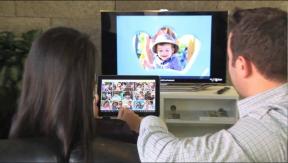 Marlboro, N.J. – High-end speaker company KEF America has begun shipping its first amplified speaker system for TVs.
The $899-suggested V300 TV-speaker system consists of two shallow-depth 1.4-inch-deep left-right vertical speakers. They're powered by an included hideaway 2×50-watt DSP-equipped Class-D amplifier/activation module, which can be attached to the VESA point in the back of a TV. The module measures 1.1 by 10.7 by 6.4 inches.
The system is designed for applications in which a horizontal soundbar might block the TV screen.
An existing TV remote can control the speaker module's on/off, volume and mute functions when the module is connected to a TV's HDMI 1.4 port with audio return channel. If the TV uses HDMI 1.2a or HDMI 1.3 without audio return channel, then users must connect both an HDMI cable and an optical digital cable to transfer sound and enable control from the TV's remote.
The activation module also features a subwoofer output with digital crossover that's automatically turned on when a powered sub is connected.
The speakers themselves measure 23.6 by 5.5 by 1.4 inches and can be mounted on the wall or on included desk stands. Optional floor stands are also available. Each speaker enclosure features two 4.5-inch flat woofers and a 1-inh vented aluminum-dome tweeter in a tangerine wave guide to deliver a wide sound stage. Frequency response is 100Hz-27kHz +/-3dB without subwoofer. A switchable EQ mode compensates for on-wall mounting to optimize bass response.
The speaker system is available from KEF's web site and authorized retailers.
The speaker system is part of the company's new V series, which includes the company's first two active soundbars. They ship in October.
All V series products will be displayed at the CEDIA Expo in Denver.
Latest posts by Joseph Palenchar
(see all)