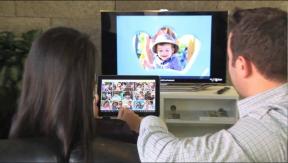 Sunnyvale, Calif. – In an attempt to open its products to a broader audience, high-end movie server developer Kaleidescape unveiled Tuesday the Cinema One, a compact movie server and player combination system.
Cinema One, which carries a $3,995 price, is targeted at midrange high-performance home entertainment equipment enthusiasts, and rings in at almost $10,000 less than the starting price on the previous server.
The Cinema One includes enough onboard storage capacity to hold 100 Blu-ray or 600 DVD-quality movies transferred from optical discs to the onboard hard drive without removing or altering embedded copy protection. The unit will also access Kaleidescape's recently launched movie-download service that delivers Blu-ray-quality movies to customer's hard drives over a broadband Internet connection.
The Cinema One also offers Kaleidescape's most compact form factor to date, at roughly the size of a standard DVR.
Tom Barnett, Kaleidescape marketing senior director, said the Cinema One was designed for DIY installations and can be linked with a second unit in the home to double the storage volume and share movies between both devices in a centralized network library.
He added that the new product will be distributed through Magnolia Design Centers, direct through Kaleidescape's online store, and through the company's network of more than 1,800 A/V specialty dealers worldwide. Kaleidescape products are open to virtually all HTSA member dealers, although the company is not an official HTSA manufacturer at this time, Barnett said.
Kaleidescape also expects the new price point to open distribution to more dealers going forward.
Cinema One incorporates the same processing and software found in Kaleidescape's more expensive servers, but with more limited storage volume.
The existing flagship Kaleidescape product line — which can serve collections of any size to a virtually unlimited number of rooms using rack-mountable hardware — will be known as the Premiere line going forward, and is intended for professional custom installation.
The company's products are said to provide a better home theater experience by letting viewers watch Blu-ray and DVD movies without the delays of previews, menus or ads.
The servers all include a user interface that makes it easy to browse through hundreds of movies without the need to search through stacks of DVD or Blu-ray Disc cases.
The Kaleidescape Store movie-download service delivers HD and SD movies with all the audio and video quality of Blu-ray Disc versions of the titles, and they include all of the special features and extra content of the discs.
The Kaleidescape Experience is powered by the company's Movie Guide, which contains 250,000 titles. Movies are presented with high-resolution cover art and a short synopsis.
As viewers browse their collection, the onscreen user interface highlights similar films based on genre, director, actors and more.
Kaleidescape experts select thousands of the most memorable scenes in films, concerts and musicals so viewers can jump directly to the best parts of listed movies.
Cinema One is compatible with any home-automation system and features a CinemaScape video-processing mode providing a source for advanced 2.35 aspect ratio content.
The Cinema One is backed by a three-year standard limited warranty.
Latest posts by Greg Tarr
(see all)