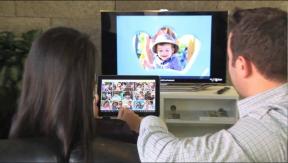 New York – The MirrorLink capabilities of select aftermarket in-dash multimedia head units from JVC and Sony can now be used with a pair of widely popular Android smartphones, Samsung's Galaxy SIII and Galaxy Note II.
Samsung launched its DriveLink app for the two smartphones, enabling control of the phones' core functions from touchscreen-equipped in-dash aftermarket and OEM head units.
Nokia also offers a MirrorLink app for its Symbian-based smartphones, but those phones are not widely available in the U.S.
MirrorLink is an industry-standard technology that enables touchscreen-equipped head units to control and stream content from MirrorLink-compatible smartphones. The on-screen interface of each brand of MirrorLink smartphone looks the same from car to car. The in-dash interfaces of different brands of MirrorLink-equipped smartphones will look similar but not be exactly the same from among different smartphone brands.
MirrorLink-compatible heads control a compatible phone's calling, music, and location-based functions, including playback and control of stored music and music apps, voice-calling functions, display of phone contacts, album art display, and control and display of location-based features such as Google Maps for turn-by-turn navigation, accessing Google Street View, and choosing other Google location options.
Samsung's MirrorLink app can be used with Sony's two MirrorLink-enabled multimedia head units, the $549 double-DIN XAV-601BT and $699 double-DIN XAV-701HD. They became available in 2012.
For its part, JVC has begun shipping one MirrorLink head unit and plans two more, both of which were announced at International CES.
The first JVC head unit is the $599-suggested KW-NSX1 with detachable 6.1-inch WVGA display. JVC plans January shipments of the $699-suggested KW-NSX700 with 7-inch WVGA motorized widescreen touch panel and March shipment of the $649-suggested KW-NSX600 with 6.1-inch WVGA screen.
Latest posts by Joseph Palenchar
(see all)