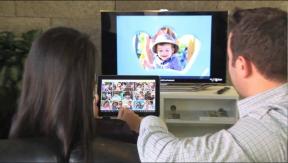 Wayne, N.J. — JVC said Monday it is using a team of professional athletes to capture action video clips using its Adixxion line for use in an online and social-media promotion.
JVC said it recently expanded its roster of athletes, which it called "action sports partners," to help promote the Adixxion series.
These include Parker Coffin, member of the Pacsun USA Surf Team and champion of the Surfing America and National Scholastic Surfing Association (NSSA) championships; Jamey Parks, competitive big mountain skier and professional action photographer; Tony Carroll, Pro Wakeboard Tour competitor; Michelle and Steve Scheller, competitive skydivers from the CSC Inferno team; Derek Garland, professional FMX (freestyle motocross) rider and long-time FMX Tour competitor.
JVC said the athletes are using Adixxion equipment in all of their sports activities, delivering action images while skiing, surfing, wakeboarding, FMX motorcycle racing and skydiving.
Video is shared by the stars with friends and fans via social media, and can be found on the JVC YouTube channel and Adixxion Facebook page.
JVC is currently highlighting its Adixxion GC-XA1 model, which offers a pocket-sized body that weighs barely a quarter pound, and is waterproof to a depth of 16.4 feet, shock-proof to withstand a 6.5-foot drop, dust-proof and freeze-proof, without requiring a separate housing.
It adds built-in Wi-Fi, 1.5-inch LCD monitor and image stabilizer, and offers FullHD 1,920 by 1,080/30p and 1,280 by 720/60p recording.
Latest posts by Greg Tarr
(see all)