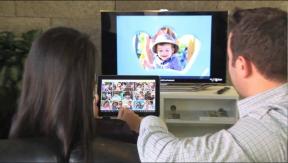 Minneapolis – Best Buy said it will continue to drive down costs while investing in online and multichannel sales in pursuit of increased revenue and profits.
Encouraged by improving financial trends, including a return to positive U.S. comp growth during the fourth quarter, the company's new management team led by CEO Hubert Joly and chief financial officer Sharon McCollam reiterated on an earnings call the "Renew Blue" turnaround strategy first laid out in broad strokes last November.
Joly also confirmed that founder Dick Schulze had failed to submit a qualified buyout offer before yesterday's deadline, and that Best Buy's directors had blocked an 11th-hour effort by him and three private equity firms to take a minority interest in the company and gain an additional seat on the board.
The strategic priorities, Joly said, are "accelerating online growth; escalating the multi-channel customer experience; increasing revenue and gross profit per square foot through enhanced store space optimization and merchandising; driving down cost of goods sold through supply chain efficiencies; continuing to gradually optimize the U.S. real estate portfolio; and further reducing SG&A costs."
The latter began this week with $150 million in cuts that included the layoff of 400 headquarters employees. The action represented the first phase in a multi-year, $725 million effort that McCollam said was "not all about headcount." In her first earnings call at Best Buy, the former Williams Sonoma CFO cited "significant incremental opportunity" to cut overhead, and promised another round of cost reductions in the second quarter.
Joly described the approach as "aggressively and systematically attacking costs," and ticked off a litany of targets including non-core activities, management layers and organizational silos. Other savings can be achieved through greater operational efficiencies, including such supply chain and transportation improvements such as expanding online fulfillment into all existing distribution centers; better allocation of inventory; consolidating orders per parcel and refining order management to fill orders from optimal locations; and improved planning with transport carriers to send fuller trucks and reduce shipping costs.
Best Buy will also continue to close unproductive stores, including five to 10 big-box locations this year; renegotiate leases; and allocate less showroom space to fading, low-margin categories like pre-recorded music and movies, and more to profitable growth areas like mobile, major appliances and accessories.
The other big push is online, where the company is "underpenetrated" and sees "significant growth opportunities," McCollam said. To that end, the retailer is investing in a new web platform — a two-year process — and is improving its current one in the interim, in order to increase traffic and conversion rates. Enhancements, many of which should be in place by the holidays, will include personalized recommendations; an improved search function; a consistent browsing experience across all devices; an expanded assortment with improved product information; better integration of the company's loyalty program into BestBuy.com; and a better process for offering Geek Squad, warranties and other services with in-store pick-ups of online orders.
On the brick-and-mortar side, the company will this year open 12 new Best Buy Mobile shops, 10 Magnolia Design Center in-store showrooms and 18 to 25 premium Pacific Kitchen & Home stores-within-a-store, and will continue to test new flagship prototypes, Joly said.
He also noted that the company's expanded and permanent price-match policy has helped improve Best Buy's price perception with minimal impact on margins as its prices are already "quite competitive."
McCollam added that "Our fourth quarter results and the actions that we've taken since then to begin rationalizing our infrastructure have given the organization something that it hasn't had in a long time – pride in the outcome and a belief in what is possible."
Domestic revenue slipped 0.3 percent to $12.6 billion for the three months ended Feb. 2 due to the closure of 49 big-box stores earlier in 2012, which was offset by the addition of 126 Best Buy Mobile shops. U.S. comps rose nearly 1 percent thanks to a calendar shift that pushed pre-Super Bowl sales into the quarter, and strength in mobile phones, tablets and e-readers and appliances. Indeed, majap comps increased 11.7 percent and computing and mobile phone comps climbed 13.4 percent during the period, partially offset by declines in gaming and digital imaging.
In addition, U.S. online sales rose 11.2 percent to a record $1.3 billion, driven by "highly effective traffic-generating marketing initiatives," the company said.
"Best Buy is the market leader in a highly fragmented and growing market," McCollam concluded. "We have a powerful platform from which to deliver a superior multi-channel shopping and service experience to our customers."
Latest posts by Alan Wolf
(see all)