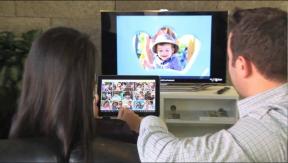 Las Vegas — Jennifer Lopez will extend her brand to wireless retailing with the launch of stores called Viva Movil by Jennifer Lopez, the entertainer announced at the CTIA convention.
The brick-and-mortar stores and the company's website at GetViva.com are targeted directly to the shopping preferences of the growing Hispanic population, she said during a press conference. The company will exclusively sell Verizon Wireless phones and service as well as Lopez-designed accessories.
The company is the first in the wireless industry to enable consumers to buy phones and service through Facebook, enabling users to shop with friends and share information about the products and services they buy, she added. "Latinos love social networking," Lopez said, calling the Facebook capability a venture in "social commerce."
Lopez is majority owner of the venture. The two other shareholders are Brightstar, the distribution and services company, and Moorehead Communications, Verizon Wireless' largest Verizon-exclusive retailer by store count with more than 850 stores operating under the Cellular Connection name in 28 states. Verizon does not have an ownership stake in the company.
Moorehead's role is to find store locations, set up and maintain operations, hire staff, and acquire products through Brightstar, Moorehead president/CEO Scott Moorhead told TWICE. Brightstar is the largest Latino-owned company in the U.S., Lopez said during the press conference.
The first Viva Movil brick-and-mortar store will open June 15 somewhere in New York City. The company plans to end the year with 15 stores in places such as Los Angeles and Miami. Getviva.com and the company's Facebook page are already live and ready to sell products and plans.
The project was 18 months in the making, said Moorhead.
To target the growing Latino population, the stores will hire only bilingual salespeople and will set aside play areas for children because shopping for Latinos is often a family affair, Lopez said. The website is also bilingual.
Latinos also want great value and the ability to test drive products, so the company will deliver great value with the latest Verizon LTE handsets, and it will display products that people can use in store to test out, she continued. In the children's area, Moorehead said, the stores will have toys and tablets running kid's games.
"We're American, and we're Latino," Lopez said of Latinos in the U.S. To reach the demographic, a retailer "needs someone who understands that," she said.
As the company's chief creative officer, Lopez also played a role in designing the stores. "She is a partner, not a paid celebrity endorser," said Brightstar chairman/CEO Marcelo Claure of Lopez's role.
The stores will carry devices from existing handset vendors but might consider carrying store-brand, said Claure. Likewise, the stores will offer Verizon's current service plans, but Verizon's Walden said Verizon might offer unique content and applications for devices sold by the retailer in the future.
Latest posts by Joseph Palenchar
(see all)