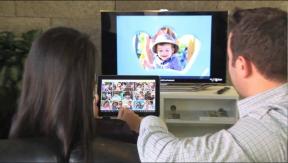 Clearwater, Fla. — Aamp's Intraphex division is expanding its selection of OEM-integration solutions that add navigation and backup-camera capabilities to factory-installed touchscreens.
The latest solution is the $1,899-suggested P1N-GM11, which adds navigation and backup-camera capabilities to 7-inch GM infotainment touchscreens in select late-model GM vehicles. It's promoted as a plug-and-play solution to integrate navigation and backup cameras direct to the factory screens of GMC vehicles, Chevrolets with MyLink infotainment systems, and Buicks with IntelliLink infotainment systems.
The company also offers the TD-CADICUE2013-V2 for integration with 8-inch GM factory touchscreens in Cadillac Cue infotainment systems, Chevrolet 2014 trucks, Chevrolet 2014 Impalas, and the GMC Sierra. In April, the company plans to ship a navigation and backup-camera solution for the new 4.2-inch screens in GM vehicles.
The P1N-GM11 features IGO Primo navigation software and Nuance voice recognition. Nuance lets users speak address and waypoints for hands-free navigation. Turn-by-turn voice prompts are delivered via the vehicle's factory audio system. The navigation software features 12-million points of interest, Google-connected search, 3D building imagery and 3D terrain.
Maps and a user interface appear on the factory display, but when the Intelliflip feature is turned on, maps are displayed only when the system issues navigation prompts or when the driver issues voice commands. The radio's hard buttons are used to "back out" of navigation mode or jump directly from navigation to the vehicle's phone interface, a spokesman added.
The P1N-GM11's backup-camera solution features onscreen dynamic parking-assist lines that move side to side as the steering wheel moves to display a projected path behind the vehicle.
Latest posts by Joseph Palenchar
(see all)