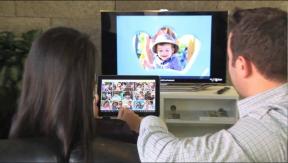 Upper Saddle River, N.J. – Integra is expanding its selection of A/V receivers with built-in WiFi, Bluetooth, and 4K passthrough with the July shipment of the $1,300-suggested DTR-40.5 and $1,700 DTR-50.5.
The networked 7.2-channel networked receivers join the previously announced $1,000 DTR-30.5 networked receiver in offering built-in Bluetooth, Wi-Fi, and 4K passthrough. The three AVRs' predecessors offered 4K upscaling of HD sources but not 4K passthrough.
In other changes, the two new THX Select2 Plus certified AVRs are priced $100 higher than their predecessors, add upgraded DACs, and add TuneIn Internet radio, which joins a list of music-streaming sources accessible through the AVRs.
The brand, targeted specifically to custom A/V installers, hasn't announced replacements for its $600 and $900 AVRs or flagship $2,800 9.2-channel DTR-70.4, launched last year as the brand's first AVR capable of delivering the full 11.1-channel capabilities of the DTS Neo:X post-processing technology.
The two new models lack DTS Neo:X, though the $1,700 model's predecessor offered the 9.1-channel implementation of DTS Neo:X when a two-channel amp is added.
Both new models feature DLNA 1.5 audio networking, Dolby Pro Logic IIz to add a pair of front-height channels, Audyssey DSX to add a pair of front-height or front-wide channels, Audyssey Dynamic EQ and Dynamic Volume, Audyssey MultEQ room-response correction, THX Loudness Plus, seven HDMI inputs, dual simultaneous HDMI outputs, HDMI standby passthrough, phono input, Wi-Fi 802.11b/g/n, and the following Internet audio services: Pandora, Rhapsody, SiriusXM Internet Radio, Tune In, Spotify, Slacker, Aupeo!, and Last.fm.
The two AVRs also play high-definition music files in FLAC, DSD, ALAC, HD 24/96 and HD 24/192 formats from download services. The AVRs also play back Apple Lossless, DSD, and Dolby True HD via a home network.
Surround codecs include DTS HD Express for use with Blu-ray players and smart TVs that access video-streaming services encoded with DTS HD Express surround sound.
Both also feature seven rear-panel HDMI inputs, one HDMI front-panel input, dual simultaneous HDMI outputs, and front-panel Mobile High-Definition Link (MHL)-enabled HDMI input, which enables MHL-compatible smartphones and tablets to stream HD video and 7.1 surround sound from the mobile devices via cable to a home theater system. The AVRs' HDMI port also charges the portable device, and consumers can use their AVR remote to control the playback of content streamed from their mobile device.
Both models also share InstaPrevue Technology, which delivers live picture-in-picture thumbnail previews of HDMI-connected video sources, including MHL-enabled HDMI inputs. The MHL input also supports Roku streaming boxes.
An AirPlay-enabled add-on is also available for both models.
Both AVRs are also compatible with Integra's Remote Apps for iOS and Android to control AVR functions and push music to the AVR from phones and tablets.
The $1,300 AVT features powered-zone two and 7×110-watt amplification, rated from 20Hz to 20kHz with 0.08 percent THD into 8 ohms. The $1,700 model steps up to 7×130 watts and adds the following: four-zone capability instead of three, powered-zone two and three, more digital audio inputs, a differential DAC for the front channels, a programmable remote, and proprietary digital processing crossover network, said to improve the performance of bi-amped stereo speakers by eliminating the crossover overlap between the high and low frequency signals.
Latest posts by Joseph Palenchar
(see all)