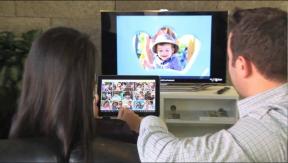 Port Washington, N.Y. — iLuv Creative Technology has begun shipping its first Bluetooth speaker that can be used in pairs to create wireless speaker systems with separate left and right speakers.
The $129-suggested SyrenPro, available in black or white, is a weather- and UV- resistant outdoor speaker available at iLuv.com and select retailers, including Bed Bath & Beyond online and brick-and-mortar stores.
The speaker also features 360-degree dispersion, 3-inch co-axial drivers and iLuv's jAura sound technology, which is designed to deliver balanced sound. The speaker also has voice prompts to simplify Bluetooth pairing. It runs on AC power or a rechargeable battery delivering up to four hours of playback time.
Other features include an aux input. It measures 8.4 inches by 11.6 inches by 8.4 inches.
The speaker is part of a trio of new Bluetooth speakers that includes the $39 WaveCast portable stereo speaker with a four-hour rechargeable battery, bass radiator, matte finish in a wave pattern, and availability in four colors. It measures 6.5 by 2.5 by 1.6 inches. The third is the $49 Rollick portable stereo speaker with front-mount controls, two-way drivers, rechargeable four-hour battery, metal grille and rounded styling. It will be available in five colors and measures 7.1 by 1.6 by 2.2 inches.
Availability of those two products hasn't been announced.