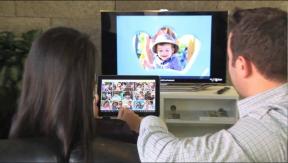 El Segundo, Calif. — Smart-TV functionality was found in more than one in four television sets shipped worldwide in 2012, according to a new study issued by IHS iSuppli.
The IHS Screen Digest TV Technology Service found that current set shipment forecasts are on course to see that number rise to more than half of all TVs in the market by 2015.
Worldwide shipments of smart TVs amounted to 66 million units in 2012, up 27 percent from 52 million in 2011, according IHS said.
This gave smart TVs a 27 percent share of the total television market for the year.
By 2015, shipments are expected to rise to 141 million units and account for 55 percent of global television shipments, which will mark the first time they make up more than half the market.
The following year, shipments will expand to 173 million units, amounting to nearly two-thirds of the worldwide television total, IHS believes.
"Despite a decline in global television shipments in 2012, consumer demand for Internet-connected televisions soared during the year — and the surge in sales shows no signs of abating," said Veronica Thayer, IHS TV systems analyst. "Smart TVs are rapidly joining the mainstream as manufacturers refine their products to add new features and to make them easier to use."
The market research firm defines a Smart TV as a set with integrated Internet features. In addition to traditional broadcast media, smart TVs are designed to accommodate Internet-based television, over-the-top content and streaming video.
"Smart TVs have come a long way from the first models introduced a few years ago," IHS observed. "TV manufacturers have been continuously improving the user interface and features to make them more user friendly, creating multiple and innovating ways as well to control and interact with the TV set."
Companies including LG, Samsung and Sony have focused on developing their own smart TV platforms.
These manufacturers are seeking ways to differentiate themselves from the competition and to add new hardware and software features that enhance the consumer experience.
Some of these features include content discovery, personalization of the home screen, recommendation engines, advanced controls — including gesture, motion and voice — and multi-screen capabilities.
One of the most promising features that can drive consumers to the purchase and use of smart TVs is partnership by a smart-TV brand with pay-TV operators. Using smart TVs as a client device in a pay-TV household can help TV manufacturers distinguish their products in the marketplace, reduce customer premises equipment costs for operators and ultimately benefit consumers.
Even so, the proliferation of proprietary smart-TV platforms has caused fragmentation and created problems for the developers of television apps.
TV manufacturers LG Electronics, TP Vision — for Philips TVs outside of the U.S. and Mexico — and Toshiba founded the Smart TV Alliance in June 2012, to allow developers to create apps using open standard systems that can successfully run on all the platforms supported by the alliance.
Panasonic joined the alliance in January 2013, and more companies are expected to sign up in the future.
An emerging trend of "smart-ready" TV models has come about through partnership with Roku and TV manufacturers, including Coby, Hisense, TCL and Westinghouse.
Using the "smart-ready approach," any television enabled with a mobile high-definition link (MHL) can be turned into a smart TV using a Roku Streaming Stick.
Such partnerships offer a value to second- and third-tier brands that wish to compete in the smart-TV market.
For its part, Google TV has made some improvements since it was first launched in the market, more recently adding voice search and a new TV guide called "PrimeTime." However, this has yet to resonate with consumers, IHS said.
Sony released the first Google TV set in 2010, but now only sells it as a separate box, similar to the Vizio Co-Star and the Hisense Pulse. LG Electronics continues to offer smart TVs with Google TV, first introduced in 2012, on screen sizes ranging from 42 inches to 60 inches.
Latest posts by Greg Tarr
(see all)