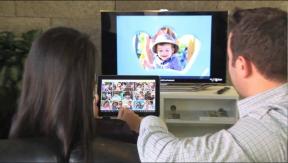 Rahway, N.J. — Docking isn't dead.
At least that's what iHome must believe in announcing the release of a trio of Apple-certified docking speakers with eight-pin Lightning connectors and USB ports.
All three products feature an Apple eight-pin Lightning dock to connect to newer iPods, iPhones and iPads, and they are also among iHome's first docking speakers with Apple-certified USB port to charge and play iPods, iPhones and iPads. The Lightning connector enables charging of, and playback of music from, a docked iPhone 5, iPad Mini, fourth-generation iPad and new iPods. The Apple-certified USB port enables the same functionality with older iPhones, iPads and iPods connected via a 30-pin-to-USB cable.
The trio of new models consists of the $99-suggested iDL45, which shipped earlier this month; the $79 iPL10, which shipped this week; and the $149 iDL100, which ships in early July.
The iDL45 alarm-clock speaker features FM tuner, Lightning connector and USB port. The $79 iPL10 is a smaller version of the iDL45. And the $149 iDL100 dock with stereo FM clock radio features two Lightning docks and one USB port. It also features auto syncing of the clock with the clock of the docked Apple device, dual alarms with weekday/weekend settings, programmable snooze time, ability to wake or go to sleep to music from FM or docked devices, ability to wake up and go to sleep to iOS-device music, six FM presets and EQ controls.
Earlier this year, iHome shipped two other docking clock radios. They are the $99-suggested iDN45 and $119 iDL95. The iDN45 docking clock radio features Made For iPod/iPhone/iPad 30-pin connector for docking, charging, and playing music from older Apple devices, but it also sports an Apple-certified iPhone/iPod/iPad USB port for use with Lightning-equipped iOS devices. Other features include aux in, dual alarms, wake to FM or Apple-device music, auto time sync, and bass, treble and balance controls.
The $119 iDL95 FM docking clock radio features single Lightning dock plus an Apple-certified USB port. It also features dual alarms, wake to FM or Apple devices, and auto time sync.
To play back music from any Bluetooth-equipped mobile device, no matter what the operating system, iHome expanded its Bluetooth speaker selection during International CES.
Latest posts by Joseph Palenchar
(see all)