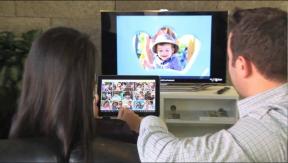 Denver — HydraConnect is adding compatibility with more home-control systems and planning to launch additional HDMI matrix processors later in the year.
The company, which is a supplier of HDMI matrix processors for multi-room-A/V installations, currently has two processors offer dynamic extended display identification data (EDID) transfer over HDMI to optimize video and sound transmission in custom installations with multiple centralized video sources and multiple displays, all with a mix of capabilities. That could include installs with a mix of centralized 2D and 3D sources, a mix of 2D and 3D displays, a mix of 1080p and 720p displays, and the use of A/V receivers in some rooms and built-in TV speakers in other rooms.
HDMI matrix processors are designed to overcome an inherent HDMI limitation in which an HDMI video source talks to only one HDMI display at a time, said president David Schanin.
The company's two processors, based on the Unix OS, are the $5,999-suggested HSS-2 and $7,999 HSS-3. Both are 8×8 HDMI matrix processors combined with a separate 8×16 audio-distribution processor in the same chassis. The HSS-3 adds HDBaseT transmitters on all HDMI outputs to send HDMI video and multichannel audio over less-expensive CAT-5e or CAT-6 cable. The HSS-3 has been available for three months. The HSS-2 has been available for a year.
The 3U-size products include HDMI CEC control of connected TVs, A/V receivers, and Blu-ray players in a distributed-A/V system.
To these processors, HydraConnect just added the ability to integrate with Elan home-control systems, and the company plans to offer compatibility with Savant home-control systems in a couple weeks. The processors can also be integrated with Control4, Creston, RTI and iRule home-control systems.
Later this year, the three-year-old company plans to expand its selection of HDMI matrix processors and, at the CEDIA Expo, will show multiple new models, said Schanin. One priority will be launching larger matrixes, but adding 4K by 2K compatibility "is not on the short list" of new-product capabilities because of the lack of sources and displays, he said.
The company, which has "several hundred" installer customers, positions its processors as offering a lower-cost alternative to competing solutions, and it claimed its dynamic-EDID solution works better than competing matrixes that use other methods of resolving conflicts between source and display capabilities.
EDID is descriptive data sent by a display and its audio system to a video source to describe their capabilities — such as screen resolution, 3D capability and supported surround-sound codecs — and ensure optimized audio and video signals are received.
Other HDMI matrix processors have a learning mode to learn the EDIDs of different displays, but Schanin said those solutions do not work well. Other solutions require installers to choose a single lowest-common-denominator EDID for their installation from a menu, forcing installers to send less-than-optimum signals to some displays and dumb down all audio transfers to stereo if only a single TV isn't connected to an A/V receiver, the company added.
With HydraConnect's dynamic-EDID technology, "We dynamically change the EDID going back to the source," Schanin said. When a display is turned, it sends its EDID to a central source to ensure a matching A/V signal is sent, he explained.
If HydraConnect users turn on a 2D display connected to a 3D source, for example, users will be able to view clean 2D video on the 2D display instead of likely viewing garbled video, the company said. In the case of a 3D source sending video simultaneously to separate 3D and 2D displays, consumers will not see garbled video on the 2D display but will instead see an OSD that informs them that they can't watch a 3D source on the display.
Similarly, video resolutions will be optimized when a display connects to a video source.
In installations with multiple cable or satellite-TV boxes, a user who inadvertently connects to the same set-top box while it is in use by another user will see an OSD telling him to change sources. This will prevent the user from changing channels on the other user, the company said.
HydraConnect's existing processors cannot be upgraded to 4K with a downloadable software upgrade because of silicon limitations, but installations that use HDBaseT to route HDMI audio and video over CAT-5e and CAT-6 are 4K-ready, Schanin noted. Those installs could be upgraded to deliver 4K with the addition of future matrix processors if 4K proves popular, he noted.
Latest posts by Joseph Palenchar
(see all)