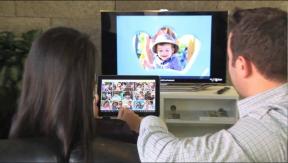 CES 2014 Las Vegas – Chinese smartphone maker Huawei will once again try to crack the U.S. market with its new 6.1-inch Ascend Mate2 LTE 4G phablet that features two-day operation and panoramic selfies, announced at International CES and due to land here in the spring.
Slightly trimmer than last year's original Ascend Mate, the 9.5mm-thin Mate2 boosts its cameras to a Sony BSI, f2.0 aperture 28mm 13-megapixel rear imager and a 5-megapixel front lens with 88-degree panoramic selfie capabilities. It adds an enhanced HD low-temperature poly-silicon (LTPS) screen protected by Gorilla Glass 2, a slightly more powerful quad-core 1.6 GHz Hisilicon A9 processor, Bluetooth low-power 4.0 and 802.11ac Wi-Fi, and it doubles the built-in memory to 16GB, supplemented by an SD card slot.
The Mate2 also is compatible with all worldwide LTE networks. CEO Richard Yu claimed its LTE technology enables a 1GB movie to be downloaded in one minute.
Carried over from the original Ascend Mate is Huawei's massive 4,050 mAh battery, the industry's largest; by contrast, HTC's 5.9-inch Max One is equipped with "just" a 3,300 mAh power cell. The large power cell is aided by optimization to achieve 30 percent more efficiency. Huawei claimed the surprisingly lightweight (202 grams) Ascend Mate2 will last through 60 hours of normal use or 12 hours of web surfing.
With so much juice, the Mate2 also can be used for reverse charging to recharge other devices.
Also included in the plastic-cased Ascend Mate2 is Huawei's Emotion UI 2.0, which offers Windows Phone 8-like app tiles, enhances one-handed and single-thumb operation, "floating screens" to ease multitasking, and multiscreen sharing, including with HDTVs. Also included is a phone "harassment filter" to block unwanted calls, and the ability to allow selected operations to continue running even when the screen is turned off.
Placing the Mate2 in a dashboard dock accessory automatically switches the phone to navigation mode. Also due are accessory covers with a cut-out window that let you see the time, weather and notifications, and colorful Bluetooth earphones and speakers.
The Ascend Mate2 will first be available in China this quarter, then the U.S. No carriers or retailers were announced. Given Huawei's tradition as an entry-level supplier, the Ascent Mate2 should be priced less than its phablet competitors such as the HTC One Max and the Samsung Galaxy Note 3.
Huawei's success in the U.S. is far from assured, of course; the original Ascend Mate was not even launched in the U.S. after its 2013 CES unveiling. But technology does not seem to be Huawei's problem; the company supplies infrastructure equipment for around half of the world's LTE networks. On the handset side, Huawei white-labels enough devices to make it the world's third-largest smartphone supplier, at 4.8 percent of the market, according to figures from IDC. Colin Giles, Huawei's executive VP, expects the company will sell 80 million smartphones globally this year.
Breaking into the U.S. market, however, given the dominance of Apple and Samsung and the barely surviving status of far more well-known and established brands such as Motorola, HTC and LG, has been the challenge. The company claimed its brand awareness in the U.S. has risen from 9 percent to 22 percent in the U.S. during the last year.
Some of the problem may be the company's distinctly foreign and definitely difficult to pronounce name – say it like "Rahway," only with a soft "h" instead of an "r."
"We're the biggest $38 billion, multinational global company that no one in the U.S. has ever heard of — yet," noted company external affairs VP William Plummer.
Huawei's strategy for 2014 is to lessen its emphasis on its white-label business and concentrate on brand-building in the U.S. market. Ninety-five percent of the company's goods will be Huawei branded, vs. 80 percent last year. "We want to work with local partners and help them address gaps in their product portfolios," Plummer explained. "We have proven ourselves [outside the U.S.] as a partner who delivers affordable, sexy products."
The company, whose U.S. offices are in Plano, Texas, also hopes the U.S. carrier-centric model continues to erode, giving Huawei more of an opportunity to exploit is lower-priced product in a more competitive European-like unsubsidized open market. Half its smartphones are sold unsubsidized. "It's a competitive market in the U.S., with unique market characteristics," Plummer admitted. "We've had great success in 150 other markets, and we believe there's room for competition in the U.S."
Latest posts by Stewart Wolpin
(see all)