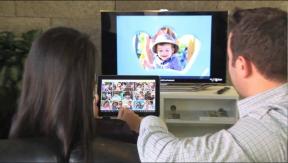 St. Petersburg, Fla. — Multichannel retailer HSN has redesigned and re-launched its e-commerce and mobile commerce sites.
The year-long revamp was designed to enhance the customer experience by making the sites faster and more efficient, and by integrating greater social networking tools and features, the retailer said.
The sites have a new look and feel, a simplified user interface, new "shop by category" options, and more intuitive navigation that allows customers to quickly find their favorite brands, personalities and event information, the company said.
The overhaul was announced at Panasonic's International CES press conference last week by HSN CEO Mindy Grossman, who described the new multichannel platform as "boundary-less retail." Grossman also touted a new "shop-by-remote" feature that allows consumers to browse and buy some 40,000 HSN SKUs via select Viera TVs.
The redesign includes technological improvements to HSN.com's content and software architecture, so that content will no longer be limited to the structure of the page and instead will actually determine page structure. Enhancements include incorporating caching and performance optimization into its database, core services, page structures, and other components, which doubles the site's speed and renders it twice as efficient, HSN said.
The enhanced speed and efficiencies also extend to all mobile devices including iOS, Android and Windows 8 tablets and smartphones. "Mobile continues to be our fastest growing platform so we know that is where our customers are engaging with us," said HSN digital commerce executive VP Jill Braff. "Whether it's a smartphone or a tablet, we are committed to providing the same content rich experience on her terms, whenever and wherever she chooses."
Braff said the redesign will also allow HSN to further integrate content, community and commerce to create a unique shopping experience. "HSN now has the framework necessary to continuously deepen and extend its unique storytelling capabilities," she noted.
The redesign puts social shopping at the heart of HSN's customer experience by prominently integrating social communities and social media tools across all of its platforms, the company said. Directed by social media curator Mass Relevance, the new functionality allows customers to share product finds, thoughts, and reviews to influence shopping in real time.
One new feature for example, called "The 20," lists 20 curated products that customers can vote for. At midnight, HSN will tally the votes and those who voted for the winning product will be given a discount toward its purchase.
"HSN has set a new standard for social shopping with its new website," said Mass Relevance CEO Sam Decker. "By using the Mass Relevance platform, HSN.com can power a real-time social integration that includes photo walls, streams, polls, Q&A and more. Now, shoppers can participate with social content at every step of the purchase path, building engagement and driving a deeper connection with the HSN brand."
HSN was founded 35 years ago as the first broadcast retailer and today airs live to 96 million U.S. households. HSN.com is among the 10 most trafficked e-commerce sites, the company said, and features more than 16,000 product videos.
Latest posts by Alan Wolf
(see all)