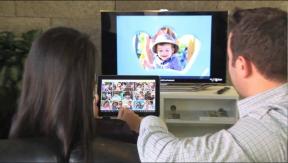 Indianapolis — Weaker sales and margins, and higher taxes and costs, led to sharply lower fourth-quarter and full-year profits for hhgregg.
For the fourth quarter, ended March 31, net income fell 81 percent to $9.9 million as net sales slipped 2.6 percent to $597.6 million and comp-store sales declined 9.8 percent.
Profits were impacted by one-time charges related to impairment of two store locations, and a year-ago life insurance proceed of nearly $40 million in net income following the death of executive chairman Jerry Throgmartin. The company also recorded higher depreciation and amortization expense as a percentage of sales due to the cost of opening 20 new stores over the past 12 months.
Gross profit margin slipped by 66 basis points to 29.9 percent due to lower gross margin rates in most product categories, the company reported.
Broken out by category, video comps fell 21.1 percent during the quarter on a double-digit decline in unit volume as the chain limited its assortment of entry-level TVs.
Comps for the combined audio, mattress and personal electronics category fell 11 percent. The declines were led by double-digit comp decreases in cameras, camcorders and small electronics, and were partially offset by gains in mattresses and the addition of home entertainment furniture and fitness equipment.
Computing and mobile phone comps declined 10 percent due to lower sales of notebook computers and mobile phones, and were partially offset by higher sales of tablets. The decline in mobile phones was attributed to an assortment change during the quarter.
Only major appliances enjoyed growth during the quarter. Comps increased 5.2 percent on higher unit volume, which was offset by a modest decline in average selling prices.
In a statement, president/CEO Dennis May said comps improved each month during the quarter, with March "materially better than January." He noted that the positive trends are continuing in the current quarter, with comp store sales ahead by the low single digits.
"While I am pleased with the current trends in the business," he said, "we are cautiously optimistic given the inherent volatility that exists in our business and the importance of the upcoming Memorial Day sales period.
For the full fiscal year, net income dropped 69 percent to $25.4 million and net sales slipped 0.7 percent to $2.5 billion, while comp sales dipped nearly 9 percent.
The company is limiting its expansion to five new stores during its current fiscal year, which will bring its store count to 233 locations.
Latest posts by Alan Wolf
(see all)