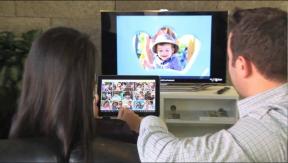 UPDATED! Suwanee, Georgia — Hisense USA revealed a mid-season football-themed price break on its line of K316 3D FullHD LCD SmartTV models.
The Hisense sets, which feature built-in Wi-Fi reception and SmartTV capabilities, are available in 42-, 46- and 50-inch screen sizes, and are being sold exclusively at hhgregg stores and on its website at the following prices:
The 50-inch (50K316DW), which has a $1,099.99 suggested retail is currently on sale for $799.99;
The 46-inch (46K316DW), which has an $899.99 suggested retail, is currently on sale for $799.99; and
The 42-inch (42K316DW), which has a $699.99 suggested retail, is currently on sale for $599.99.
"Hisense TVs and football go together like chips and dip," stated JoAnne Foist, Hisense USA marketing director. "These televisions are hands-down the best way to enjoy every moment of live football action this season and bring fans even closer together."
The K316 range includes apps to access online services including Facebook, Twitter, Netflix, Vudu and YouTube, among others. An Opera web browser is also included.
The series offers FullHD 1080p resolution at a 120Hz Smooth Motion refresh rate to reduce motion blur.
Four HDMI inputs are included for connectivity with a host of source components.
For 3D viewing the sets use 3D active shutter eyewear. Glasses are sold separately, however, hhgregg is currently including a free pair with the purchase of any size K316 model.
The price of 3D glasses sold separately is $79.99, for a set of two, but hhgregg is also running a special offer on two pair for a street retail of $59.99.
Latest posts by Greg Tarr
(see all)