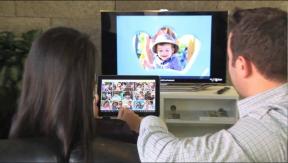 Indianapolis — hhgregg said it will expand its furniture assortment, further develop the fitness category, and increase its majap market share in lieu of dwindling TV demand.
In a conference call to discuss the company's soft third-quarter results and its game plan for the future, president/CEO Dennis May said that aside from cyclical blips following the introduction of new technology, the prospects for TV growth are slim.
"We don't expect video to improve," he told analysts, citing lower demand and top-line pressure as large-screen models wend their way into the mass market and warehouse club channels.
May lauded the rollout of OLED and Ultra High-Definition TV for stimulating replacement sales and bolstering average selling prices (ASPs), but said the new products will have minimal impact in 2013 and predicted video industry declines this year in the high single digits to low double digits.
"The video business will continue to be challenged in the near term, and elements of it are forever changed," he said.
Although it remains an important category for the company, hhgregg will reduce its exposure to TV over time and is reassessing its recent shift away from promotional models. May said the chain will now emphasize branded opening-price-point SKUs in its assortment and advertising, which in hindsight should have been done during the holidays.
Devising a TV strategy for a changing and declining business is challenging he noted, and is compounded by manufacturers' unilateral pricing policies. The latter "held up well" and helped stabilize ASPs and gross margins, but limit hhgregg's ability to mount traffic-driving promotions, he said.
In contrast, the company's major appliance business has outperformed the industry and, at 42 percent of its sales mix, has become the retailer's largest category. What's more, the chain has "significant room" to further its white-goods share through improved cooking displays, greater builders' channel penetration, increased advertising, a focus on high-efficiency models, and improving housing industry trends.
May said the company was also pleased with its recent rollout of furniture and fitness equipment, which fit the bill as bulky, high-margin products that require a consultative sales force, a distribution infrastructure, next-day home delivery, and a credit offering.
"hhgregg was a CE store that also sells appliances, and we're becoming a home products store that also sells CE," he said.
Furniture surprised management by bringing in more new traffic than expected, he noted, and the chain is looking to expand its living room assortment and add bedroom fare to complement its mattress business. Meanwhile, it will continue to tweak the mattress and exercise equipment categories, where it plans to be more price competitive.
The company will also roll out a pilot lease-to-own program to all stores next year; implement a new point-of-sale system that promises to make checkout and home delivery more efficient; and continue to test and expand its Apple and mobile offerings.
The 228-store chain will also limit new store growth to "just a handful" of locations this year as it digests the new categories and improves and refines its business model. Once that's accomplished, hhgregg will resume its growth strategy in pursuit of a national footprint, May said.