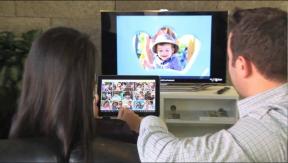 Arlington, Va. – The Consumer Electronics Association (CEA) and HGTV announced that the HGTV Smart Home 2014, in Nashville, Tenn., has earned CEA's TechHome Gold Rating, ensuring the home has the ability to support current and future digital needs.
The rating is based on CEA's TechHome Rating System (THRS), a nationally-recognized specification for residential technology infrastructure.
With the TechHome Gold Rating designation, the HGTV Smart Home provides a whole-house network that features multiroom audio, video, data, telephone and television distribution, as well as home automation, systems control capabilities and security signals.
The HGTV Smart Home comes fully furnished and showcases high-tech features, including products from CEA members, ADT Security Services and Verizon Wireless. The virtual tour of the HGTV Smart Home 2014 launched today on HGTV.com/smart, CEA said.
"The HGTV Smart Home is a shining example of the benefits, energy savings and convenience that connected homes can offer to today's homeowner," said Gary Shapiro, president and CEO of CEA. "A home constructed with the proper technology infrastructure is critical for seamlessly integrating devices to achieve the connected home experience."
Developed by CEA's TechHome Division, THRS is a high-tech guide that explains to consumers, homebuyers and realtors the digital functions a home is equipped to handle. The guidelines help identify consumers' technology needs and determine the desired applications and products. THRS is based on the structured wiring present in the home and its ability to achieve the ultimate digital experience for the homeowner, both indoors and out.
For more information about the TechHome Rating System, to locate a home technology integrator or to learn more about smart homes, visit TechHome.com.