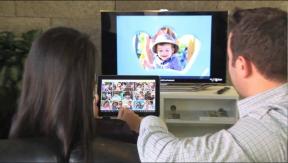 Stamford, Conn. – Harman expects to book an additional $100 million in incremental revenue in its fiscal second half because of planned sales of portable speakers through an unnamed mobile telecom partner outside the U.S., the company said during an investor's conference call.
Harman already sells select audio products through Sprint's U.S. stores.
Portable speakers are part of the company's home and multimedia products group, whose revenues and profitability both increased at double-digit percentage rates in Harman's fiscal second quarter ending December, the company said. "The growth in home and multimedia was primarily due to new product introductions and the impact of the company's marketing initiatives." Harman did not break out home and multimedia sales.
"The performance of the home and multimedia group "continues to delight me," said Dinesh Paliwal, Harman's chairman, president and CEO. He called the segment's sales growth "strong."
In the first quarter, home and multimedia sales were up globally by 24 percent, but the company didn't supply a percentage increase for the second quarter.
Companywide, second-quarter GAAP revenues were up 26 percent, including currency changes, to $1.33 billion and were up 22 percent in the first half to $2.5 billion.
GAAP net income rose 85 percent in the quarter to $76 million and 49 percent in the first half to $143 million. Operating income rose 49 percent in the second quarter to $102 million and rose in the first half by 16 percent to $171 million.
Home and multimedia products are part of the lifestyle division, which includes autosound sales to automakers. That division grew 16 percent in the quarter to $430 million and 15 percent in the half to $764 million.
The division accounted for only 30.6 percent of sales in the half, with the rest coming from pro industry sales and infotainment system sales to automakers.
Latest posts by Joseph Palenchar
(see all)