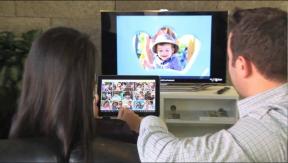 San Diego — Grace Digital has begun offering a docking speaker designed specifically for select Samsung Galaxy smartphones, which have taken a commanding share of the smartphone market.
Grace's $129-suggested Gdock Speaker Dock features a MicroUSB dock that charges the Galaxy S II, S III, Note 1 and Note 2 and captures the phones' music from the phones' MicroUSB outputs. The speakers don't need embedded audio decoders to play music from the Samsung devices, a spokesman said, because "all the Samsung devices decode the audio as it streams out of the MicroUSB."
To dock the devices, consumers place their Samsung device in one of several interchangeable cradles. Once in their respective cradles, the Samsung devices can be rotated into portrait or landscape mode.
The speaker features AC/DC operation, two 3-inch full-range speakers, two front ports, 16 watts of power, Class-D amplifier, top-panel control buttons, IR remote control and auxiliary input. A rechargeable lithium-ion battery, sold separately, delivers 12 hours of playback time.
The top-panel controls standby, volume and input selection. The remote buttons control those functions plus bass, treble and mute.
The speaker measures 13 inches by 4.3 inches by 3.75 inches.
The Grace product differs from docking speakers designed for most Android phones in general. Such speakers, made by Philips, charge Android devices but stream their music via stereo Bluetooth. Other Android-compatible docking speakers use the phone's headphone output.
Earlier this year, Samsung unveiled five docking speakers with 30-pin iPod/iPhone connector, stereo Bluetooth, and separate charging dock for the Samsung Galaxy and II smartphones and Galaxy Note smartphone/tablet hybrid. The speakers use Bluetooth to stream music from the docked Samsung devices.
Latest posts by Joseph Palenchar
(see all)