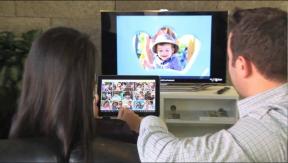 Stevenson, Md. – GoldenEar Technology shipped the newest models in its Invisa custom-install series of speakers, said to be virtually invisible because of their magnetically attached flat micro-perf grilles that hide the speaker flange.
The two models expand the Invisa series to four models following last year's launch of the Invisa 525 and Invisa 650. All four feature the High-Velocity Folded Ribbon Tweeter (HVFR) tweeters used in the company's in-room speakers to deliver the dynamic range and smooth extended response of long flat ribbon tweeters, the company said.
The two models include the Invisa MPX multipolar in-wall/in-ceiling speaker, a rectangular two-way model at a suggested $499 each. It's said to combine the advantages of a direct-radiating speaker with the spaciousness and dispersion of bipolar speakers. The MPX speakers can be used as front-main speakers or as surround speakers in a home theater system or as multiroom-audio speakers, the company said. Wide dispersion is delivered by two 5-inch bass/midrange drivers, both of which feature wide-dispersion characteristics that are further enhanced by canting one woofer left and the other right, the company said. It comes with rectangular grille and features high-frequency equalization switch.
The MPX's frequency response is 27Hz-35kHz with 90dB sensitivity and 8-ohm nominal impedance. Recommended amp power is 10-250 watts/channel.
The other Invisa speaker is the HTR 7000 in-ceiling reference home theater speaker, also at a suggested $499 each. The round speaker is intended mainly for use as a left, center and right speaker in a home theater, though it can be used as a surround speaker or as a multiroom-audio speaker. An optional square grille is available.
The HTR 7000 features 10-inch round grill with 7-inch bass/midrange driver used in the in-room Aon 3 speaker, but the driver and tweeter are angled at 28 degrees towards the listening position "so that they acoustically align directly at the normal listening position for exceptional imaging, superior frequency response, remarkable clarity and precise focus," the company said.
To achieve open, "boxless" imaging that appears to come from across the front wall rather than from the ceiling, the company said it minimized deleterious diffraction effects and used multiple designs to optimize wave-launch into the room.
The HTR 7000 delivers a frequency response of 25 Hz-35 kHz with 90dB sensitivity and nominal 8-ohm impedance. Recommended amp power is 10-250 watts/channel.
The previously available two-way $249-each Invisa 525 and $299-each Invisa 650 are designed for in-ceiling and in-wall use for multiroom-audio applications. They feature wide-dispersion design and 5.25-inch and 6.5-inch woofers, respectively, and come standard with a round, paintable grille and an optional square grille. The tweeters pivot to further optimize performance, and a high-frequency equalization switch allows precise matching to any environment.
Latest posts by Joseph Palenchar
(see all)