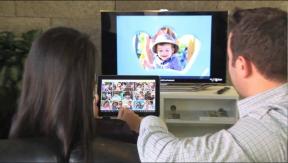 Chino, Calif. — Genius unveiled Tuesday its DVR-FHD560 FullHD vehicle recorder with a wide-angle lens intended to make video logs while driving to offer reliable evidence in the case of unforeseen accidents.
The 1080p vehicle recorder has a wide 128-degree viewing angle to capture the whole road, and can rotate 180 degrees to let drivers easily record traffic on either side of the vehicle.
The Genius DVR-FHD560 (available now at a $149 suggested retail) is said to record in both daylight and evenings, using a low-light enhancement sensor.
Recordings can be viewed in real time or later in playback mode on an included 2.4-inch LCD screen.
The LCD screen rotates 270 degrees, allowing drivers to view videos from most angles.
The Genius DVR-FHD560 can be mounted to the front windshield with an included adjustable mounting unit. It can also be removed from the mount to be used as a digital video recorder.
SD and SDHC cards up to 32GB are supported, and an HDMI interface is included for connection to TVs and monitors.
The 600 mAh lithium-ion battery offers a long recording time and can be easily recharged by plugged into a cigarette lighter with an included power adapter.
The DVR-FHD560 also comes with a USB cable for transferring data to a computer and for charging at home.
Other features include frame rates of 20 fps for 1080p/30fps for 720p; 1 million pixel 1.4-inch CMOS sensor; and AVI (M-JPEG) recording format.