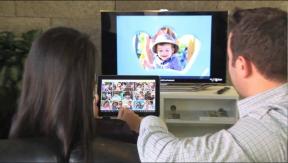 Olathe, Kan. — Drivers will be able to view GPS navigation instructions without taking their eyes off the road when Garmin launches its first portable head-up display (HUD).
The $129-suggested HUD, available later this summer, projects navigation information onto a windshield from a Bluetooth-connected smartphone that's running a Garmin StreetPilot or Navigon navigation app.
The device displays turn arrows, distance to the next turn, current speed and speed limit, estimated time of arrival, potential traffic delays, safety-camera locations and visual prompts that let drivers know what lane to be in for the next maneuver.
The apps themselves deliver spoken turn-by-turn directions through the smartphone's speaker or through a Bluetooth-connected car stereo. When the spoken directions mute during a phone conversation, HUD continues to display navigation information.
Consumers can display navigation information on their windshield via an included transparent film or view the information on an included reflector lens attached to the HUD. The display automatically adjusts brightness level for viewing in direct sunlight or at night. The device also comes with integrated USB port on its power/adapter cable to charge the smartphone while driving.
The device pairs wirelessly with a compatible Bluetooth-enabled iPhone, Android or Windows Phone 8 smartphone. The Street Pilot app with smartphone-stored U.S. maps for iOS devices retails for $50. The Navigon apps with U.S. maps for Android and iOS devices are priced at $60. The apps automatically fade out music streamed from the smartphone when the apps begin to deliver a voice prompt.
"Head-up displays currently have their place in select high-end cars, but HUD makes this technology available as an aftermarket accessory for any vehicle at an affordable price," said Dan Bartel, Garmin's worldwide sales VP.
Other portable head-up displays are available in the U.S. aftermarket but are limited to displaying speed, RPMs, battery voltage, engine temperature, tire pressure and the like when plugged into a vehicle's OEM OBD-II port. Some display only speed as calculated by an internal GPS receiver.
Latest posts by Joseph Palenchar
(see all)