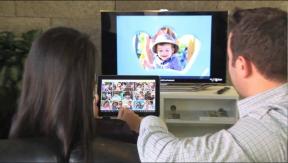 San Juan Capistrano, Calif. – Fujitsu Ten's Eclipse brand, which left the car audio aftermarket in 2010 after a run of 21 years, is making a U.S. comeback, but in the home-audio market.
The Japanese company will go to International CES with its current range of stand-mounted home speakers that take the form of tapered spheres. They're priced from $490/pair to $11,200/pair. The company will also introduce a pair of high-end powered subwoofers and a wireless Airplay speaker pair.
The subs are the TD725SW MK2, due at around $7,000, and the TD520SW, due at around $4,500. The AirPlay speaker pair, shaped like the company's other tapered spherical speakers, is the TD-M1 at a suggested $1,300/pair.
The new products ship in February. The company's current speakers will be available in January.
The brand entered the home speaker market in Japan in 2001 and has expanded the line to Asia and Europe. Although the brand "was in the U.S.A. briefly some years ago," a spokesperson said, Eclipse is "now properly entering the U.S. home market in February 2014" through U.S. distributor On A Higher Note, which is based in San Juan Capistrano, Calif.
The subwoofers are said to feature transient response that matches that of its speakers, which use Eclipse Time Domain technology to deliver "faster transient response than anything else on the market," the company said. "These two subwoofers react faster and time better than any competitors, which makes them astonishingly musical and accurate."
Both subs are said to combine power and speed. They use two small-diameter drivers in back-to-back configuration linked by an aluminum bar. The configuration is promoted as combining small-diameter driver speed with large-diameter driver power.
Both subs feature Class D amplifiers, low-pass filter bypass, IR remote, and a selector to switch between 5.1- or 2.1-channel inputs. They deliver 500 watts and 250 watts, respectively, of nominal output with 1 percent THD. Playback range is 20-150Hz and 25-150Hz, respectively. The larger model measures 21.5 by 19.7 by 20.6 inches.
The AirPlay speaker, which also features Time Domain technology, comes with Wi-Fi, AirPlay, AirPlay Direct, DLNA, USB B to connect to a PC/Mac, USB A to connect to an iPhone/iPod touch, and 192kHz/24-bit DAC. An iPhone App is available for remote control of power, volume and input switching. The DAC gives users the option to remove the oversampling filter during the playback process.
Oversampling filters are used to remove noise that occurs when digital sound is converted into analog, but the speaker's over-sampling-free mode removes the over-sampling filter to focus on accuracy for enhanced clarity, the company noted.
The speaker also features Class D amp, touch-sensor controls, and speaker-angle adjustment, which lets users to choose between three angles (0-20 degrees) with a single touch to optimize imaging for a given listening location.
A 3.5mm input allows for connection to TVs and other devices.
The speakers measure 6.1 by 8.6 by 9.5 inches and features 3-inch drivers, 70Hz-30kHz frequency response, 20-watt nominal output at 1 percent THD.
In early 2010, Fujitsu Ten discontinued sales of Eclipse mobile audio, video and navigation products in the struggling aftermarket in North America, Latin America and South America. Eclipse was the first aftermarket autosound company in the 1980s to introduce a digital data bus for aftermarket car audio components, and it was known for its double-DIN in-dash navigation/entertainment units.
Latest posts by Joseph Palenchar
(see all)