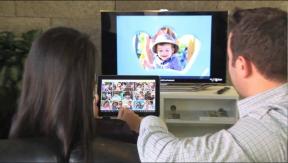 Santa Clara, Calif. — Worldwide flat panel display (FPD) revenues will climb 8 percent to $120 billion in 2012, up from $111 billion in 2011, according to a new study from NPD DisplaySearch.
The market research group's Quarterly Worldwide FPD Shipment and Forecast Report said TFT LCD displays account for the majority of the revenue at $107.7 billion in 2012, up from $99.4 billion in 2011.
Active Matrix OLED displays showed the most year-to-year growth, followed by displays based on liquid crystal on silicon (LCoS) projection technology. All other display technologies, including plasma and passive matrix forms of LCD and OLED, have declined in 2012.
In a sharp reversal, active matrix electrophoretic display (AMPED), which is used in monochrome e-readers, swung from strong growth in 2011 to even stronger decline in 2012, due to competition from TFT LCD-based tablet PCs, DisplaySearch said.
In contrast, FPD revenue struggled in 2011, as revenues fell 5 percent year-to-year to $111 billion, due to price erosion in TFT LCD panels, especially for TV applications.
The 2011 decline in FPD revenues was only the second time in the history of the industry, as absolute TFT LCD revenues fell below $100 billion.
DisplaySearch said the "recovery" this year is based on increasing average sizes and shipments of LCD TVs, higher prices for high-resolution mobile displays for applications such as smart phones and tablet PCs, strong unit growth of tablet PCs, expansion of AMOLED shipments and applications, thin and light ultra-slim notebook PC panels, emerging 4K-by-2K LCD TVs, and growth of demand from applications including games, car navigation systems, and digital signage.
"There are still concerns for the outlook of the FPD industry, as high levels of saturation have been attained in several major markets," said David Hsieh, NPD DisplaySearch VP. "However, the supply chain has found ways to increase the value proposition of FPDs by focusing on technology enhancements: higher resolution for mobile devices, larger screen sizes, thinner and lighter versions for mobile PCs, wide viewing angle performance, and other functions such as touch screens."
"While the industry faces challenges in traditional applications such as plasma TVs and mainstream sizes of LCD TVs and desktop monitors, the addition of new features and lower prices are driving growth of applications such as tablet PCs and smartphones," Hsieh continued. "We expect 2013 to be a good year for the FPD industry, with revenue increasing, as TFT LCD prices recover and AMOLED demand grows."
To acquire a full report contact Charles Camaroto at [email protected] (888-436-7673).
Latest posts by Greg Tarr
(see all)