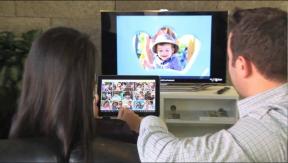 Las Vegas — We've entered a new digital decade, and its fruits are tying us in closer to our analog world.
At the State of the Consumer Tech Industry and 2013 CES Trends to Watch — also known as the official kickoff to International CES — Shawn DuBravac, Consumer Electronics Association (CEA) research director, starting things off a bit differently this year by providing a brief history lesson of invention and innovation as it relates to consumer electronics. To the amusement of the press in attendance, DuBravac pointed out that it took 150 years to bring the light bulb to market — a stark contrast to the grumbling heard today when LG takes a few extra months to ready its OLED sets.
This second digital decade that we're entering builds off the first, DuBravac said, "but it's not about simply acquisition [of devices] — it's about taking advantage of those products." Part of this relates to what he termed "the post-smartphone era," in which the smartphone has ceased to be primarily a communication device. More than 65 percent of time spent using smartphones are for activities that aren't related to talking or texting, he noted.
Our phones (and tablets, for that matter) have become hubs for the rest of our digital activities, and the proliferation of affordable sensors has made this possible, whether these are accelerometers, gyroscopes, cameras or microphones. This "sensorization" has positioned digital devices into the role of the curator, enabling consumers to convert their analog data into digital data, and to then amplify the data's use back in the analog world, DuBravac said. He cited such examples as blood-pressure recording and medicine-taking prompts as evidence that sensors are collecting data to enhance the analog world.
While "smart" has become a synonym for connected devices, DuBravac said this would begin to change with this year's show. "We're now at a period to move beyond just connected, and move to really building in some intelligence into that connectivity, not just as a distribution channel," he noted.
And as consumers increase the number of connected devices they own, they are becoming "digital omnivores." Second screens are becoming primary screens as tablet ownership edges up from 1.2 per household to 1.4, and the first screen in which a consumer may interact with a brand, he said.
"As ownership rates increase and we seamlessly move across devices … consumers begin their engagement on these second screens. So they are the first screen that we engage with a brand. Base upon that experience, we decide what we're going to do — engage further on that platform or [engage on a different platform]," DuBravac said, noting that this trend will ultimately have an impact on the hardware and the services provided.
As for the trends at this year's CES, attendees can expect to see laptop design experimentation that goes beyond the traditional clamshell design, which, as DuBravac noted with some personal photos, hasn't changed much in the last 20 years. Voice and gesture controls, as well as Windows 8 touchscreens, will also hold prominent roles at this year's show.
Show-goers will also witness higher pixel density in all screen sizes, DuBravac said. He cited the expansion of 4K TVs — there will be around 50 models from at least 10 manufacturers at this year's CES — but added that this better screen resolution will also extend to mobile devices.
Latest posts by Lisa Johnston
(see all)