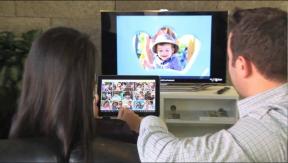 West Chester, Ohio — Escort launched its latest radar detector on Monday, the company's first with a four-color OLED display.
The Passport Max, at a $549 suggested retail and currently shipping, employs digital signal processing (DSP) technology, said to allow the detector to lower the background "noise" of the detection area. Ron Gividen, an Escort spokesman, said that while other detectors on the market are unable to alert a driver until the detector detects a signal above the noise, the Passport Max lowers "the noise floor by adding in an inverse random noise signal."
This in turn enables the Max to provide more accurate alerts at a much faster speed, and Gividen said the Max is four times faster than any other Escort detector.
The four-color OLED display, a first for the company, will display images of the different types of alerts being registered (a red-light camera, for example), as well as display posted speed limits and driving speed.
Other Max features include the ability to mark a location for future alerts, a MiniUSB port for software and database updates, a mute button, the ability to adjust detector sensitivity, volume control and voice alerts.
It employs a number of technologies to eliminate false alerts, such as the company's Traffic Sensor Rejection technology, meant to eliminate alerts caused by mounted traffic-flow sensors; Escort's GPS-based AutoLearn technology to reject fixed-position false alarms; and the DSP technology mentioned above.
The Passport Max is compatible with the company's Escort Live service, which enables drivers to share and verify alerts with each other. A one-year subscription to the service is included, as is its recently announced Sticky Cup mount.
The first 1,000 consumers to purchase the Passport Max will receive a two-year warranty (vs. the typical one-year), a two-year subscription to Escort Live, and free firmware updates for life.
Gividen said Escort is not at this time planning to discontinue any models to make for room for the Passport Max.
Latest posts by Lisa Johnston
(see all)