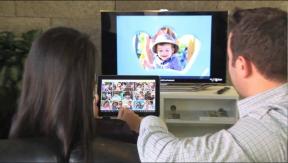 Franklin, Tenn. — Emotiva Audio has introduced the second generation of its XPA-2 stereo power amplifier, a revamped two-channel unit that has new features, functionality and look.
With the new XPA-2 Gen 2, Emotiva has refined the XPA-2's circuit topology. It sports several mechanical improvements like solid machined gold-plated RCA jacks, metal toggle switches for input selection, and "cleaner, bolder aesthetics," with a new high-strength chassis for added durability, the company said.
"Our first-generation XPA-2 was called 'a beast, a monster, an abominable snowman on steroids,' " said Dan Laufman, president of Emotiva. "With the XPA-2 Gen 2, we took that beast and sent her to finishing school. The result is not only more refined performance, but a more refined appearance, as well. And she's flexible enough to stick with you even as your audio system evolves."
In the upgrade process, the XPA-2 Gen 2 also gained a boost in power, up from 250 watts per channel to 300 watts RMS per channel at 8 ohms with 0.07 percent total harmonic distortion. For 4-ohm loads, the amp retains its impressive 500 watts RMS per channel output with 0.12 percent THD, and, like its predecessor, the XPA-2 Gen 2 can be switched into Monoblock mode to deliver 1000 watts RMS into an 8-ohm load, the company said.
That means a single XPA-2 Gen 2 can serve as the central powerhouse of a two-channel system or, when combined with Emotiva's XPA-5 Gen 2 five-channel power amplifier, the front-channel bedrock of a 7.1-channel home-theater system, the company said.
The new XPA-2 is priced at $899, and is available exclusively at Emotiva.com.
Emotiva is currently running a promotion that gives buyers of qualifying products — including the XPA-2 Gen 2 — 100 Emo Bucks, a special one-time-use coupon worth $100 off any order from Emotiva within two years of issuance. Emo Bucks acquired during this promotion are void if copied, sold, purchased, assigned, transferred, exchanged or where prohibited or restricted by law, and are valid for online and phone orders only.