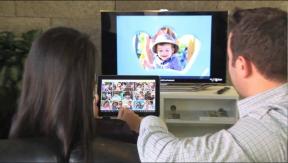 Heathrow, Fla. – Dual began shipping the first four head units in its 2013 Axxera-branded aftermarket car audio lineup following the shipment of the brand's first amplifiers.
Axxera's first speakers will ship in June.
Two other higher-priced Axxera head units are due soon.
As part of its strategy, Dual in 2013 is launching 21 new Axxera SKUs to expand the selection of Axxera head units and offer the brand's first speakers and amps.
The budget-priced head units in the 2013 lineup include the brand's first with control of Pandora on a USB-connected iPhone, 4-volt RMS preamp outputs, and 3-inch 320×40 QVGA multi-line, full-color scrolling LCD display with 3D-like background graphics and ability to show album art, artist and track info. The display makes control of a USB-connected iPod and iPhone more intuitive, the company said.
Pandora control enables display of artist, album, song information and station list as well as control of the thumbs up/down feature and bookmarking of songs and artists.
The four new head units that have begun shipping are priced at an everyday $99 for a mech-less model to $119. They are the $119 AXD430 $99 AXD330, and $69 AXD130 single-DIN CD receivers and the $99 mech-less digital media receiver (DMR).
The other two head units in the works will be priced higher and will include a double-DIN multimedia unit with 6.2-inch screen.
All Axxera products were originally scheduled for first-quarter availability.
Here's what each of the four currently shipping head units offers:
The $119 AXD430 CD receiver features 3-inch QVGA 320 by 240 LCD screen, direct front-panel USB control for most iPods and iPhones, control of the Pandora Internet Radio app on a USB-connected iPhone, 3.5mm aux input, rear RCA aux input, 4×60 watt output, two pairs of 4-volt RCA preamp outputs (F+R/S selectable), and a steering wheel interface input for use with separately sold PAC SWI-PS adapter.
The $99 AXM230 mech-less DMR offers the same features, including the 3-inch full-color LCD display, but lacks CD player.
The $99 AXD330 CD receiver offers the same features as the $119 AXD430 CD receiver but comes with full-graphic LCD display with RGB custom colors.
At $69, the AXD130 CD receiver features a 12-character LCD display, front-panel USB, 3.5mm auxiliary inputs, MP3/WMA playback, 4×60-watt output and one pair of RCA preamp outputs (rear or subwoofer selectable).
"The introduction of these four units affirms our focus on providing consumers with the most sought-after features for a price that won't break the bank," said Jim Braun, Dual Electronics president/CEO.
All Axxera receivers are backed by a two-year manufacturer warranty on parts and labor if purchased and installed by an authorized Axxera dealer.
The next new Axxera head shipping around June is the $139 AXD530. Compared to the $119 AXD430, it adds stereo Bluetooth with AVRCP, enabling head-unit control of the Pandora app on Bluetooth-connected Android or BlackBerry smartphones. It also features the 3-inch 320 by 40 QVGA multi-line, full-color LCD display.
Sometime in the second quarter, Dual will ship the $349 Axxera AXV3D multimedia receiver. The double-DIN AXV3D features a 6.2-inch widescreen 800 by 480 RGB LCD with UltraMotion multitouch LCD for tablet-like touchscreen functionality and interactive graphics.
The brand's three amps are priced at an everyday $99 to $199. The speakers and component tweeters and midranges are priced from $69 to $129/pair, and the subwoofers are priced from $89 to $99.
Latest posts by Multichannel Staff
(see all)