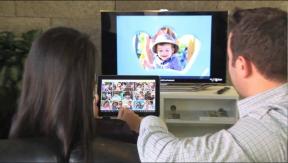 London — Drift Innovation introduced Tuesday its Drift HD Ghost "intuitive action video camera" with two-way LED remote control.
The $399 suggested retail go-anywhere camera is available direct from the Drift Innovation website and B&H Photo. It features an on/off indicator light, video recording/tagging capabilities in continuous loop mode, and integrated 2-inch Gorilla Glass LCD screen.
Unlike other point-of-view cameras that require a host of aftermarket accessories and peripherals, the Drift HD Ghost ships with a complement of accessories, and adds an intuitive interface for easy use and set up, the company said.
The Drift HD Ghost also includes a wearable on/off remote control with LEDs and wrist strap. The LED lights on the remote communicate the mode currently in use displaying a color-coded system indicating Video, Photo, Timelapse or Photoburst modes.
The remote also streamlines functionality by allowing users to take photos and change function modes from up to 30 feet away, as well as to start and stop recording.
Recordings can be saved up to five minutes after it happens while in Video Tag/Loop mode, which records footage in a continuous loop style. The video clip is stored in the camera's memory, and will save the clip only if the user chooses to "tag" it.
The built-in 2-inch LCD screen with Gorilla Glass allows real-time viewing of camera angles and serves as a video playback monitor.
The camera comes with Wi-Fi-enabled to communicate instantly with smartphones. A forthcoming iOS and Android Drift mobile app allows previewing shots remotely on a handheld device screen.
Content can also be downloaded from the camera to a smartphone and shared on social networks.
The HD Ghost is powered by an included three-hour 1,700 mAh rechargeable lithium-ion battery.
A seven-element lens enables clear images in up to FullHD 1080p resolution. Other supported video formats include 960p, 720p and WVGA.
The camera will also simultaneously shoot still photos without interrupting filming.
The included microphone features digital and mechanical dynamic modulation technology with digital signal processing and wind-noise reduction. The mic is enhanced with multiple sensitivity settings and an external 3.5mm microphone.
The Ghost HD is waterproof to a depth of 9 feet, and a waterproof housing is available as an option to enable depths up to 180 feet.
Latest posts by Greg Tarr
(see all)