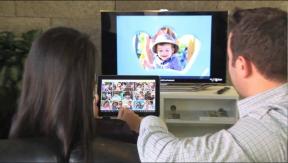 AVAD, Ingram Micro To Exhibit At 2014 Digital Signage Expo
Los Angeles — AVAD will present attendees to its Digital Signage Expo (DSE) 2014 booth 110 with leading commercial video solutions along with parent company Ingram Micro.
DSE 2014 guests will have the ability to view, learn and experience interactive display solutions through informative product demonstrations that showcase the latest projector technology, collaboration tools, touchscreen signage and cutting-edge large-format 4K LCD screens. Integrators can also meet with the AVAD team to learn more about the distributor's value-added services including product education, technical support and the AVAD system design group.
The 2014 Digital Signage Expo will be held Feb. 11-13 at the Sands Expo in Las Vegas. For a complimentary pass to DSE 2014 on behalf of AVAD and Ingram Micro, please visit DigitalSignageExpo.net and enter registration code 10059.
Stampede's Big Book Tour To Stop In Scottsdale, Ariz.
Amherst, N.Y. – Stampede Presentation Products' Spring 2014 Stampede Big Book of AV Tour rolls into the Valley Ho Hotel in Scottsdale, Ariz., on Feb. 13, bringing local dealers new opportunities for hands-on demos, presentations, and training.
According to Stampede Presentation Products president and COO Kevin Kelly, the Scottsdale stop will also allow attendees to participate in the International Technology Retail Association (ITRA) Annual Member Meeting and the regional Infocomm Roundtable Meeting that offers the opportunity for additional networking and CTS certified training.
Kelly said attendees will learn how they can immediately begin profiting from the new era of The Internet of Things (IOT).
After Scottsdale, the Stampede 2014 Big Book of AV Tour continues through the spring to Montreal, Feb. 20; Cincinnati, March 6; Irvine, Calif. (with InfoComm), March 13; Boston (with InfoComm), April 17; and Fort Lauderdale, Fla. (with InfoComm), May 15.
For more information about dealers should go to BigBookOfAVTour.com.
Stampede also reports that Cenique, a local shopper insight technology solutions provider based in Mount Airy, N.C., has appointed it to serve as a North American distributor of the company's IntelliSense product family.
According to Kelly, IntelliSense will be unveiled and demonstrated by Stampede at DSE 2014 in booth 325 of the Las Vegas Convention Center.