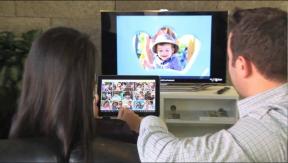 Englewood, Colo. — Dish Monday kicked off its "Talk Boston" advertising campaign, designed to remind consumers to take advantage of the iPad 2 summer offer.
The Dish campaign and accompanying website feature vocab lessons, an interactive test, a tweet translator and several videos. Viewers across the nation are invited to learn how to "Talk Boston" – or as a Boston native might say, "Tack Bahstin."
Through a special summer "awfa," Dish subscribers are given the choice of an iPad 2 instead of first-year programming discounts when they sign up for the Hopper Whole-Home HD DVR and a qualified programming package.
Using the iPad, new customers will benefit from a comprehensive TV anywhere experience (Dish Anywhere) driven by the Hopper entertainment platform. The promotion runs through Sept. 18, 2013.
TalkBoston.com has several Boston-English interactive features, including:
• Boston-English Vocabulary Resource: Pronounced by Dish's Boston Guys, Boston-English translations of common vocabulary words, such as "awfa" ("offer"), "bahgan" ("bargain"), and "fadaze" ("for days").
• Talk Boston Test: Players race against the clock or friends to decipher dozens of words spelled in Boston English.
• Talk Boston Tweet Translator: First-of-its-kind translator which automatically turns tweets into Boston English.
• "Boston as a Second Language" Class Videos: Led by a native Bostonian instructor fluent in Boston English: Kahkeez, Hoppa, Escalayta vs. Stayas, are a few videos of the series that follows students as they learn the nuances of the Boston accent.
In addition to the TalkBoston.com website, the campaign includes a collection of social videos with notable Boston celebrities making appearances, including current New England Patriot Vince Wilfork.
Latest posts by Greg Tarr
(see all)