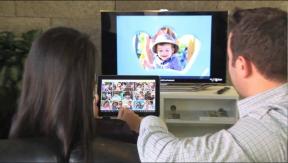 Englewood, Colo. — Dish said Thursday it has updated its Hopper Game Finder app, adding soccer to its sports lineup so fans can view live game scores, upcoming start times and onscreen updates.
The update is one of a number of second-screen apps — including a Social app unveiled last month — that Dish has developed for its Hopper whole home DVR system.
Dish also continues to update its second-screen app options for Dish Anywhere, Dish Explorer and Hopper Transfers, the company said.
The new soccer update will allow Dish viewers to track soccer stats and scores of the following leagues: La Liga (Spain), English Premier League (England), UEFA Champions League (Pan-European), Serie A (Italy), Bundesliga (Germany), Eredivisie (The Netherlands), MLS (USA), Liga MX (Mexico) and Copa MX (Mexico).
It includes 2014 FIFA World Cup qualifying matches and uses Thuuz-technology, the satellite-TV provider said.
Game Finder features up-to-the-minute stats, scores and listings.
The latest soccer addition joins similar services for MLB, NBA, NCAAF, NCAAB, NFL and NHL.
"Soccer is the world's most popular sport, and being in the thick of World Cup qualifiers, we wanted to give our customers the ability to easily follow the teams they love," Jimshade Chaudhari, Dish digital product management director, said in a statement. "We are excited about the upcoming FIFA World Cup and are pleased to add soccer to our popular Game Finder app in time for fans to enjoy all the action."
The updated app will also enable Dish customers to view scores of games from earlier in the day and from the previous day, to support customizing the app to display favorite teams, and to locate and record upcoming games.
Latest posts by Greg Tarr
(see all)