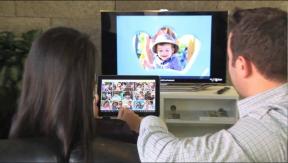 El Segundo, Calif. – DirecTV and Dish Network said Monday that they are teaming up to offer an addressable advertising platform "of unprecedented scale and reach" for political campaigns.
The companies said the strategic relationship will allow participating statewide political campaigns to target their TV ads at the household level within more than 20 million DirecTV and Dish homes.
According to a statement announcing the plan, the satellite-TV arrangement will focus on political TV advertisements only, while the companies' other media sales efforts will continue to operate independently.
"The DirecTV/Dish addressable advertising platform utilizes highly sophisticated and targeted technology that will allow political campaigns to specifically reach swing voters with TV ads. Campaigns can focus their message to a precise set of potential voters and eliminate the spending waste," said Keith Kazerman, ad sales senior VP, DirecTV. "The platform not only uniquely monetizes big data, which has become critical to every political campaign, but it does it at scale. It's the perfect complement to local DMA cable buys and a fiscally compelling alternative to local broadcast."
"Individually, Dish and DirecTV have pioneered household-addressable advertising across a national footprint for more than two years," said Warren Schlichting, Dish media sales senior VP. "As campaigns utilize more and more data, household-addressable advertising introduces a powerful tool to deliver a tailored message to a precise and measurable audience. Together, Dish and DirecTV reach nearly one out of every five U.S. television households and usher TV into the modern political age."
DirecTV and Dish utilize the same technology to deliver addressable advertising at the household level to a combined audience of more than 20 million households. Using the same methodology of direct mail, addressable advertising allows advertisers to reach their desired audience with accuracy and combines the emotional impact of TV with nationwide reach and scale.
Dish and DirecTV expect sales to begin in the coming weeks.
Latest posts by Greg Tarr
(see all)