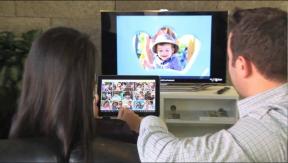 Harrisburg, Pa. — D&H Distributing, the 95-year old privately held CE and computer products distributor, reported 8 percent sales growth in its fiscal year, ended April 30, due to sales of mobility products.
D&H said its sales performance is more than three times the organic growth rate achieved by consumer electronics distribution in general over the past year.
Tablet sales at D&H have tripled year over year, driven by strong showings from Android models in the 7- and 10-inch formats. This year's overall growth figure adds to D&H's tally of more than 380 consecutive profitable quarters, the distributor said.
According to study by a Harris Interactive, at least 81 percent of all employed adults use at least one personal electronic device for business.
D&H said expansion in the tablet category concurs with recent reports from ABI Research, a N.Y.-based analyst firm, predicting shipments of these devices to climb 38 percent to 150 million in 2013. It quoted ABI, saying that 22 percent of U.S. companies have deployed tablets, and predicted that figure will grow to 78 percent in 2013.
The same report predicted that the Android OS would take the lead in market share. Strong numbers have begun to accumulate for 10-inch tablets featuring Windows 8 Pro. These include the Lenovo ThinkPad Tablet 2 and the Atom-powered HP ElitePad 900, which debuted early Q1/late Q4, in addition to a list of other new Win8 Pro models. D&H also predicted aggressive sales of forthcoming 7-inch Windows 8 Pro models.
As tends to happen when new formats emerge, the tablet boon has spawned an ecosystem of popular accessories, including removable keyboards, convertible cases and stands for both iOS and Android models. Such items have shown healthy growth at D&H as well, the distributor said.
Dealers and retailers are encouraged to bulk-up sales by bundling these accessories into bring-your-own-device (BYOD) projects.
"Growth at D&H has increasingly revolved around mobility, with its focus ranging from notebooks to tablets and thin-and-light technologies over the years. Retailers, e-tailers and dealers selling these technologies need to provide guidance and expertise to their customers, to help them make educated choices — and to capture business," said Dan Schwab, co-president at D&H Distributing. "As the mobility space has matured, we have worked to inform our dealers on those options, so they help accommodate the preferences of consumers as they bring their devices to both their homes and their offices. This consultative engagement has always played a role in our organic success as a distributor."
Categories that grew above 20 percent annual for D&H during the fiscal year include tablets, desktops, networking and solid-state drives. Predicted growth areas for this year are mobile devices, wearable computing devices, servers and digital signage